Posted on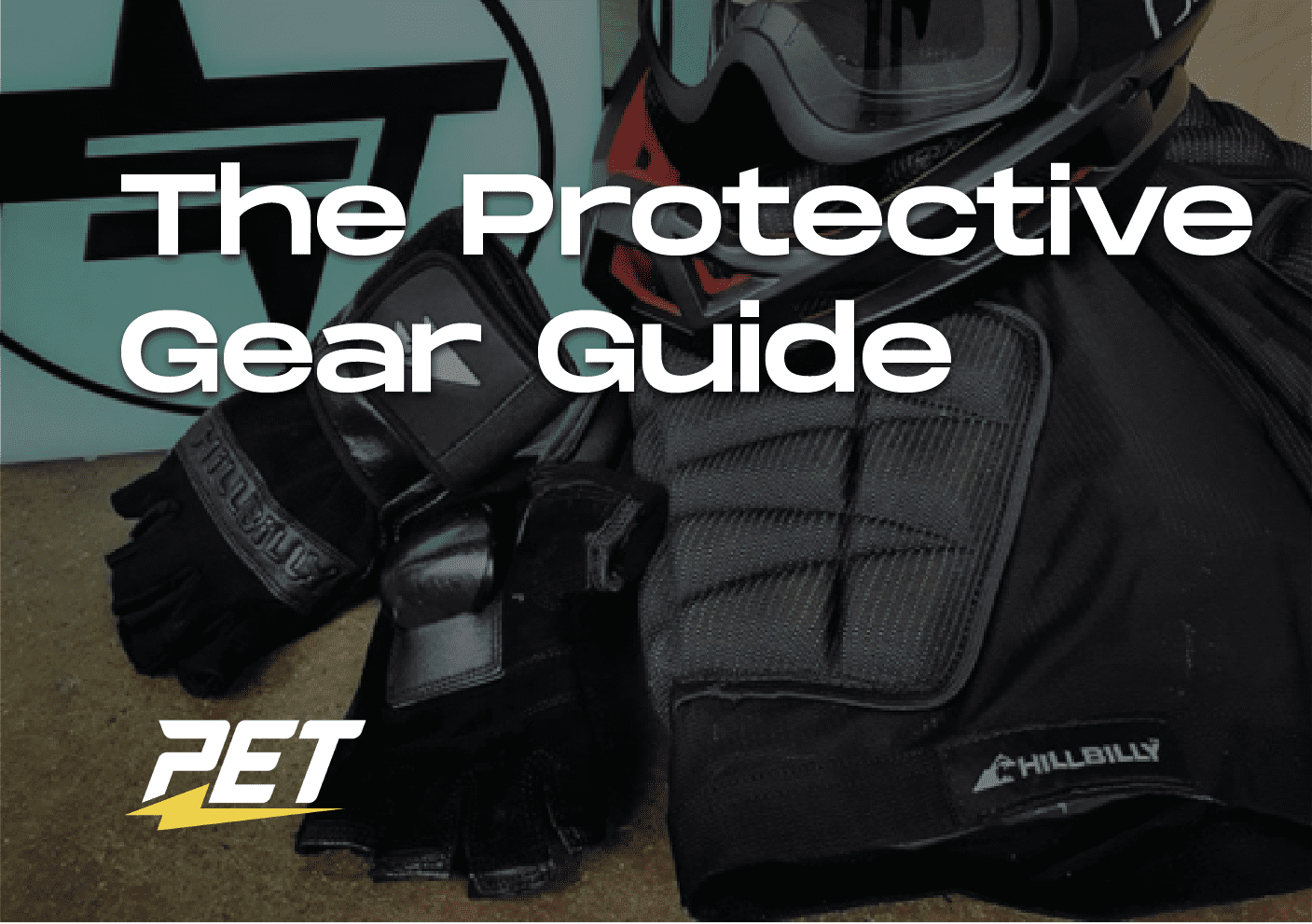 Let's talk protective gear. Whether you ride electric scooters, electric unicycles, e-skates or any other type of micro-mobility, you'll be needing some level of protection from any potential falls or accidents.
This blog post is a guest blog from Philip Chan  (@scooterlifelondon) and a member of the PET community, sharing his thoughts on protective gear after years of riding.
Basic, Essential Protection 
It doesn't matter what type of Personal Electric Vehicle (PEV) you're riding, whether it be an Electric Scooter (ES), Electric Unicycle (EUC), Onewheel, Electric Skate Board, or Electric Bike (eBike), the essential protection is a helmet. Any helmet; a bike helmet, skate helmet, motorbike helmet, it doesn't even have to be new or the latest helmet, it can even be an old one that's been hidden in your shed from year ago. The most important thing is protecting your head and of course – your brain. Any impact to your head, slow or high speed, can cause damage and trauma that can have devastating consequences on your life. This strong message is not to scare you, but to educate and potentially save you.
The second most basic protective gear is a pair of gloves. The first thing you do when you fall off your PEV is put your hands out in front of you, this is your bodies natural defence mechanism to protect the rest of your body by controlling the fall. So gloves will help to reduce any impact, protecting your hands in the case of a fall. We need our hands for everything within our daily lives, so it's a pretty good idea to protect them as much as possible. Hill Billy has our favourite gloves for extreme riding that include wrist protection.
Protecting both our head and our hands is the number one, important priority when riding any PEV. I strongly recommend you to make it your instinctive habit to wear your helmet and gloves, any time you use your PEV, wether your just going for a short ride to the shops, to meet your friends or the longer commuting trips to work etc.
Types of Helmets 
There are many types of helmets on the market today including; Road bike, Skate/BMX, Mountain Bike (MTB) Trail (half face), MTB  Full face (split into Enduro and Down hill subcategories), Motor-cross(MX) and finally Motor bike Helmets.
Road Bike (RB) Helmets – Specifically designed for cycling on the road, tend to be very light, have great ventilation, are very compact and are usually made out of slightly softer EPS, all whilst providing decent protection to the top and front parts to your head. Additionally to that there is usually a head retention system on the back go the helmet, to keep the helmet nice and snug.
Skate/BMX/Dirt jump Helmets – Specifically designed for BMX/Skating, tend to have a hard outer shell(which covers the back of the head swell) with softer EPS in the middle and a pro core(a harder lining)in the middle, overall providing great levels of protection to front, top and rear parts of you head. Due to extra materials, and strength, the helmet is bit heavier than a road bike helmet. The helmet has decent ventilation, but not as road bike helmet.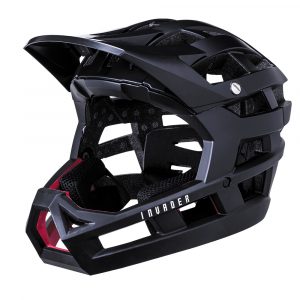 (MTB) Trail half face helmet – Specifically designed for trail riding, have lots of ventilation to keep your head cool, they offer high levels of protection top the front, top and rear parts of your head, they are also relatively light, additional benefits are retention system at the back of the helmet for a snug fit and also a small front peak, that  helps block sunlight, rain and mud from going directly to your eyes

(MTB) Enduro helmets – Specifically designed for enduro riding- offers decent Full face protection(both your head and your face) with a hard strong outer shell and a mix of EPS and harder layers inside, have great ventilation and relatively unrestricted viewing visibility,  all whilst being relatively light. Additionally they have a larger front peak for coverage from , sunlight, rain, wind and mud. Overall providing high levels of full face protection
(MTB) Down Hill helmets – Specifically designed for Downhill riding, offer higher levels protection both for head and face, whilst being well ventilated and still remaining reasonably light. they are composed of a hard strong outer shell and a mix of EPS and other multiple layers inside, including MIPS technology to reduce movement of the brain, reducing concussions to the brain and also layers for low speed and high speed impacts and also multiple impacts. Additionally they have a large front peak for coverage from , sunlight, rain, wind and mud. Overall providing higher levels of full face protection
My personal favourites are; Enduro Helmets-as they offer great full face protection, whilst remaining cool and light on my head, Motor cross jacket- as an all in one package jacket that you can easily wear and will provide you with abrasion resistance and CE rated body protection, Shin pads- as they provide full leg protection and finally Motocross gloves with a built in wrist guard- as they provide full protection to the hands and stop you braking your wrist, all whilst providing the flexibility and the breathability of a normal MTB/MX gloves
Helmet Recommendations
Types of Gloves 
There is a large variety of gloves on the market. To simplify it down into two categories I recommend MTB Down Hill Gloves and Motocross gloves.
Down Hill Mountanbike gloves – offer high levels protection, durability light, breathability and well ventilated.
Motorcross  gloves – offer great levels of protection, abrasion resistant. However tend to be thicker and less ventilated.
Personally I feel premium MTB gloves are more suitable to PEVs, as they are both protective and ventilated at the same time, with out the bulkiness of the MX gloves.
However ultimately the MX glove will offer the best protection.
Additionally there is one new category that I'm very exited about, the MTB/MX gloves with built in wrist guards."Wrist Guard" Gloves – offer high levels protection, durable light, breathable and well ventilated. With the additional up wrist guard that stop you hyperextending your wrist or breaking your wrist, but still allows full flexibility forming a fist shape. The
HillBilly Wrist Guards
are leading in this type.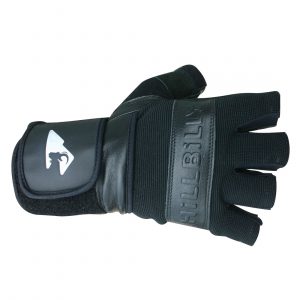 Glove Recommendations  
Motorbike / Motocross  – Troy lee / Fox / Leat / alpine star
Essentially there are 3 Forms of protective amour
Individual arm, knee and shin pads
Motorcycle jacket
Arm, Knee and Shin Pads – This accessory external padding, provide high levels of protection in the areas worn, but provide a more casual and low profile look
Body Amour suit – Provides very high levels of body protection with built in arm and shoulder pads, also included is a spine protector and front chest protector. All the padding is usually CE rated. Body suits are also highly ventilated with breathable materials and moisture wicking properties
Motor cycle jackets – Provides high levels of body protection, with the jacket being made out of very strong, durable abrasion resistant kevlar material, they also come with built in CE rated padding including shoulder, arm and spine protector. Motor cycle jackets have the added benefit of water/wind resistance
Final thoughts
The most important thing to remember is that you'll only wear protective gear that is comfortable for you.  Remember to try before you buy, ride safe and responsibly and most importantly, enjoy the freedom of green transport on your PEV
I hope this blog on protection has been useful and you can take something away from it.
If you would like Demo or purchase a PEV please visit or contact PET. I can 100 percent recommend them for their awesome selection of  PEV products, excellent in house and servicing (the best in London) and warranty and most importantly complete honesty and transparency about advise and recommendations, to help you find the perfect PEV to suit your requirements and needs.
If you would like to support my work please follow my social media(listed below) and if choose to purchase a PEV from PET, the CODE : #GOELECTRIC will give you £50 off your first purchase. Please feel free to message/contact me with any questions, I will be happy answer, and be of help where possible.
Instagram/youtube : @scooterlifelondon
Here are some other blogs you may find useful:
PET Guide to Scooter Maintenance