Posted on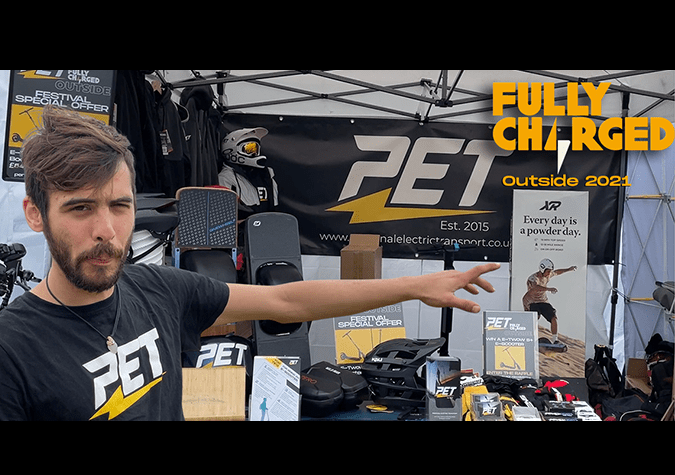 Fully Charged Outside 2021
We've been exhibiting at Fully Charged Outside for a number of years, since 2018 in fact! So we absolutely love how it's grown into the biggest electric vehicle show in Europe. PET has always felt that it's important to show up for our community and for the micro-mobility movement.
The video shows the small stand of vehicles we had in 2018 at the exhibition. It's great to see how much we have grown! No matter how big or small, being a part of the electric transport "festival" developed by Robert Llewelyn and his team at the Fully Charged Show.
It's a gathering of like-minded people who are enthusiastic of an emission free transport future. Basically – Our kind of people. This video is a little insight into the fun we had at Fully Charged Outside 2021.
Without a doubt,  the true thrill about this year's event was that we were able to demo our range of EUCs (electric unicycles). It was exciting to bring down them down to introduce and teach people how to ride them.
One of our highlights of the weekend was that we managed to successfully get around 50 folk from different walks of life riding EUCs!
Track Side
There were exhibitors from all branches of the electric transport family tree, from e-Buses, Supercars, Racing cars, family wagons and of course the most Tesla's you've ever seen in your life at any one given time.
Situated with other micro-mobility brands was where you could find PET.
Other brands were mostly showing off their range of e-Bikes next to the two-wheeler test track. Obviously, PET  brought something different to the party. It was pretty cool to see people keenly interested in having a go on vehicles they'd never had a chance to to see in real life.
In fact, we even met a lot of people who contributed to the Electric Scooter Defence Fund. These were people who we'd never met before, but they are really pleased to have us doing the work we do.
To Infinity and Beyond
Fully Charged 2021 had a variety of interesting talks, that left us all feeling feeling more positive about the future. As well as, more certain than ever that clean micro-mobility is the way forward.
Certainly, we are not the only people believing in this movement. It's clear that media is hell bent on making electric urbanmobility look like a menace to society.
However, this even proves them wrong. People travelled in from all around the country to attend  and everyone was excited as us about the possibilities of electric transport!
We're definitely looking forward to what next year's event will be like. We hope to see you there!
Read More Related Articles
Watch Our Fully Charged Episode