Posted on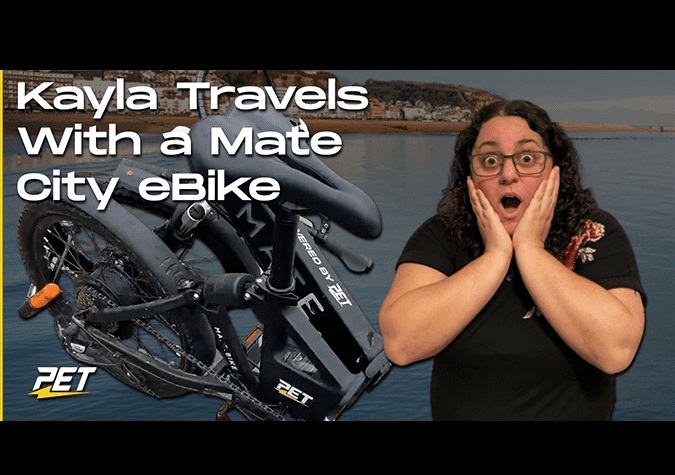 Is the Mate City eBike a friend UK Travel Companion?
As lockdown eases and good weather hits, bank holiday invited a seaside mini break in Hastings after one entire year stationary in London.
Backpacker's places hesitating to open and scooters on a bit of a limbo, I decided to grab the Mate City eBike and take it with me on the train for some sort of "bikepacking" and a glimpse of normality.
When travelling lightweight, the first thing to take into consideration is the portability. I'm so used to getting around with my trusty  E-Twow scooter companion, I was not sure about travelling with a heavier and bulkier bike, even if it's foldable.
The Mate City 500w model foldable bike, with 48v and 10.4Ah battery surprised me for its versatility and power, granting me some chill and comfortable rides along the beach path on pedal assist mode. I also took it off road for a bit and it handled well with no issues up the steep hill up to the castle. On both road and on grass in straight line! (Ok, I had to pedal together with the full throttle, but considering Covid lockdown has caused fitness struggles for all of us, it was still impressive). The battery held for the entire trip on a single charge, so no complaints there at all.
But where this bike really excels for its responsiveness is on the asphalt. After a nice ride around Alexandra park and the Buckshole Reservoir, I jumped on the road all the way down to the beach for a restaurant lunch stop. Riding solidly side by side with other cars with its max 32km/h, more than enough to skip the thick bank holiday traffic jam, with the advantage you can cut off through paths and get places before people even start to think about where to park. The Mate City isn't annoying to carry with you to some open market shopping or a narrow old town exploring.
One of the best features of this bike is the ability to fully fold when there is no bicycle rack available, opening up the bikepacker options regarding accommodation and visiting places of interest, keeping it safely with you, just as I do with my small electric scooter. Best security gear I had on me was my Kryptonite lock chain, which together with the Mate's ignition key and the removable battery you can easily protect, store or even charge on the go virtually everywhere.
As the only downside I found, I got annoyed every time I needed to fold (mainly unfold) the pedals, but that is an easy upgrade, and honestly didn't mind it that much as everywhere I went, everyone made it surprisingly easy for me to carry the Mate City as my adventure mate.
All in all, I should say the Mate City is a very versatile solution for those who want a fully enjoyable ride for both the city and countryside paths, but don't want to compromise on the flexibility that this lightweight "carry-on moped" offers.
Related Articles
Did you see us on Fully Charged?
We tested out the most popular e-scooters – check out the results