Posted on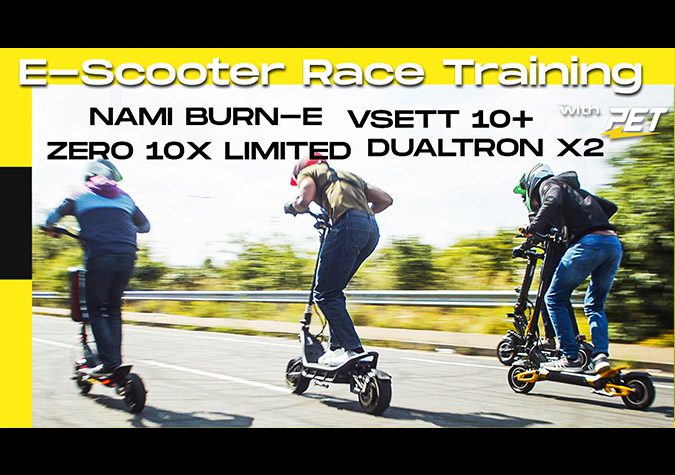 E-Scooter Race Training For The eSC Championships
With the eSC Championships coming up, we joined Eddie Hagan eSC Team Leader and F1 Consultant with our e-scooters for his racers to get acquainted with.
We took them down to a closed off road perfect for the athletes to get familiar with these new electric vehicles on.
Some of the riders had never ridden electric scooters before and were pretty impressed with the capabilities of these machines. You could tell by the look in their eyes they were ready to have some serious fun!
As there's no specialised S1-X model here for the team to take for a whip, these models definitely gave them a taste of what it will feel like. We had to take the the beefiest faster scooters that could give the new riders a touch of what the S1-X should provide.
All the electric scooters we took down with us were definitely up for the challenge. From a tried and tested Zero to the latest Vsett, flagship Nami and a Dualtron X2, it was great to see these things really being pushed to the best of their abilities.
We were even more impressed with the candidates the Eddie has brought together. All from different walks of life, from different athletic backgrounds and all over the country. They all shared the super keeness to get in some E-Scooter Race experience. We're looking forward to seeing who they'll be up against and of course what they think about the S1-X.
The eSC Championship sure is spicing up!
Watch the vlog on our Youtube Channel to find out more and don't forget to subscribe.
What would you like to see in the future of electric scooter racing?
Read More
Find out what Supermet had to say about the Vsett 10 +
https://personalelectrictransport.co.uk/vsett-10-review-by-supermet/
Is eSC the Formula 1 for e-Scooters?
https://personalelectrictransport.co.uk/esc-eskootr-championships-2021/