Posted on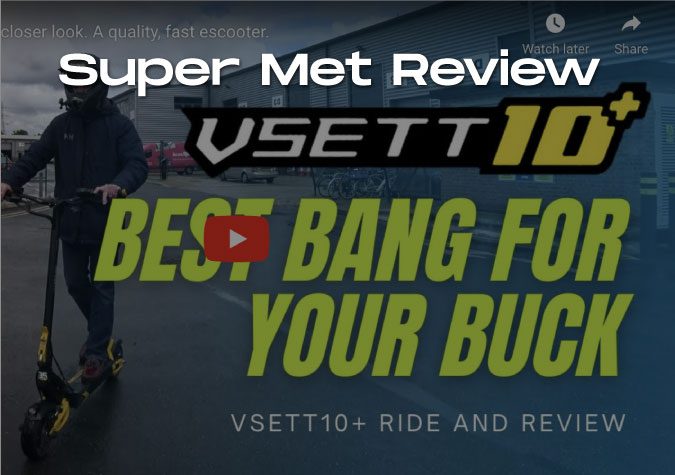 Vsett 10+ Review: A New 10″ performance king.

Dom from Super Met came over to try and give the VSETT 10+ a review.  He very quickly learned that it's a high quality, fast e-scooter that sets the bar very high for an out of the box machine.
Vsett is the brainchild of the team behind Zero electric scooters. This range of next-generation electric scooters has set new benchmarks for performance in the electric scooter world. The Vsett 10+ features a host of innovations and effortless power.

Taking the VSETT 10+ out on quite a low charge, Dom still managed to get out to the reservoir and back to PET headquarters in an effort to give this beast a proper run.

Dom really appreciates that with this model you have both power and range. He liked the RFID reader for security and the indicators for safety. He'd been wanting these upgrades on the Zero models, and both of these features are available on all scooter models in the VSETT range.

Interestingly, he also preferred the VSETT 10+ over the Nami Viper, finding that it's smaller and more manageable. In his opinion, the VSETT 10+ is grippy but lighter and nimbler than the Nami. Dom also thought that the improved stem and locking mechanism on the 10+ with a nonslip deck made for a comfortable solid ride.

While it looks similar to the Zero 10x the 10+ actually feels shorter than it's older brother. It is definitely faster than the 10x but still feels quite easy to control.

Specs
Max Speed: 50 mph / 80 km/h
Range: 60 miles (claimed / 40 miles (SuperMet est.)
Weight: 36 kg
60V for 4.2kw peak power
LG 25Ah or 28Ah battery for extra range
Built-in indicators
NFC tag reader lock – stop/start.
New locking stem design for safety and comfort with 3 safety features
Hydraulic brakes and 140mm rotors
Front and rear lighting and indicators to sides
Rubber deck with top mount twin charge ports and covers
IP44 water resistance

The Vsett 10+ is the next-generation performance electric scooter from the guys that introduced the world to the Zero 10x. Quite simply, the Vsett 10+ moves the game on.
The extra performance is packaged in a new frame which has been designed for rider stability combined with agility. A new folding mechanism is both convenient and secure with its failsafe latch.
Dual 35 amp controllers have new thermal protection circuitry and an innovative time-limited boost feature activated from the handlebar panel.
The truth is in the ride experience. The Vsett 10+ exceeds the sum of its parts – fast, usable and super-stable, the is the new 10″ performance king.

Make sure you give it a go and take it for a test ride.

Not in London? Give the team a buzz or drop them an email and we'll be happy to help you find the perfect scooter for you.

Read More 
Riding Your Electric Scooter Saves Money: Here's How