Posted on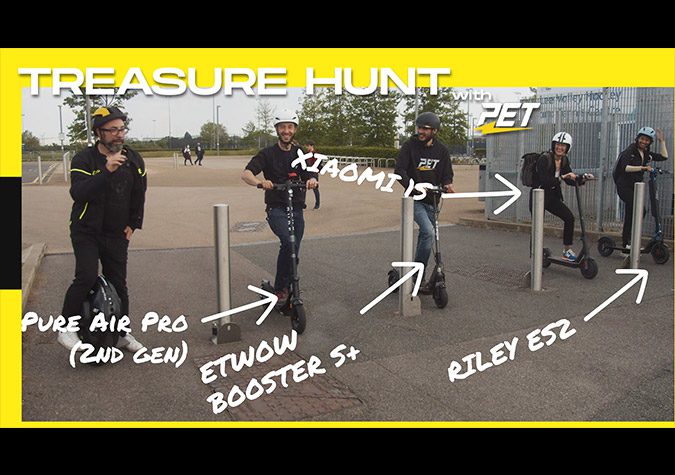 Our Commuter Scooter Treasure Hunt
It's pretty clear that micro-mobility is an important part of transportation and a solution to some of our climate change issues. As you may already know, PET is doing everything it can to shake some sense into the Government's handling of the emergence of e-scooters.
So we went on a treasure hunt to test out these commuter friendly e-scoots.
First we chose four of the most popular electric scooters around and found some "miscreant" e-scooter riders (as the government likes to call them) to complete the line up.
Then the real fun began!
While unravelling riddles to unlock the clues and win the challenge, we tested their performance in the areas of incline, portability, range, speed and braking. Because we all know you're gonna wanna climb some hills, carry your PLEV up the stairs and go a little further safely.
All specifications that are very necessary in a decent commuter e-scooter.
We were really pleased with the performance of the E-twow Booster S+ which scored great portability points for folding.
However, we were quite pleased with how all the scooters performed and happy to see the way that the engineering and technology is evolving.
These days there are loads of different e-scooters that are available at the click of the button. However, we thoroughly recommend that you get a reputable brand for a reputable dealer to avoid disappointment.
With an electric scooter that you're going to use frequently, it's important that it feels right and comfortable for you to ride. That's why we always suggest that you book a test ride just to be sure.
Watch the video on our Youtube Channel and don't forget to subscribe.
Which one is your favourite to win?
See More Like This
Did You Catch Us On Fully Charged?
https://personalelectrictransport.co.uk/micro-mobility-solutions-on-fully-charged/
Find Out What We're Doing To Stop The Police Crackdown
https://personalelectrictransport.co.uk/category/latestblogs/