Posted on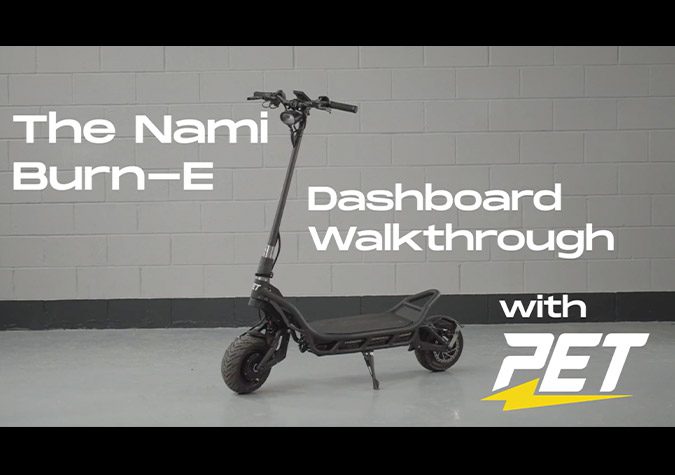 Nami Burn-E Dashboard Walk Through
In this video we take you through this special dashboard so you can make the best use out of all the features available on this scooter.
The Nami Burn-E (Viper) is the flagship model from Nami Electrics, brainchild of Michael Cha. After years of industry experience Cha applied his knowledge of what electric scooter riders want to this brand new hyper scooter. He even included his community in the design progress, applying feedback to the developing product along the way.
What are the features like?
Turn Signals (Indicators)
Incredible display
IP55 water rating, you can ride it in the rain
Lights
Roll cage frame made from aviation grade aluminum
Strong looking aesthetic
Carbon fiber stem
Twist off folding mechanism
Adjustable suspension
Super scooters have promised much over the years but there have always been compromises.  The Burn-e is the first electric scooter from Nami – a new scooter brand from well know development engineer Michael Sha.  Michael and his team have been working on the Burn-e for two years.  The objective was to eliminate compromise and disrupt the status-quo with a new standard in high-performance electric scooters.  This scooter code-named Viper is one of the most anticipated electric scooters this year.
It's a beast with dual 1500 watt motors that get you to its top speed in no time flat. Balancing comes easy with a large deck and 4inch tyres and is well suited to long speedy journeys. Nami has shown that it truly is a contending brand in the e-scooter space with it's solid design and we're going to enjoy riding this one. All the while While dreaming about what they'll be coming up with next of course.
If you have any questions about the Nami Burn-E, drop us an email support@personalelectrictransport.co.uk and one of our team will get in touch or simply book a test ride.