Posted on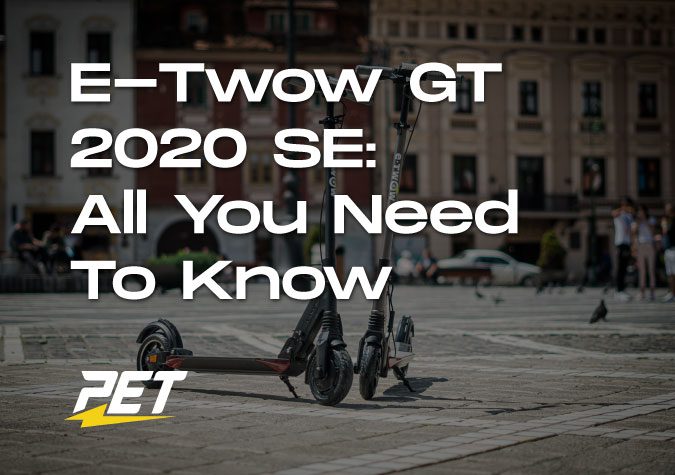 The E-Twow 2020 GT SE: Everything You Need to Know

This blog post is a guest blog from Philip Chan  (@scooterlifelondon) a member of the PET community

BRAND: E-Twow 
MODEL:  2020 Booster GT SE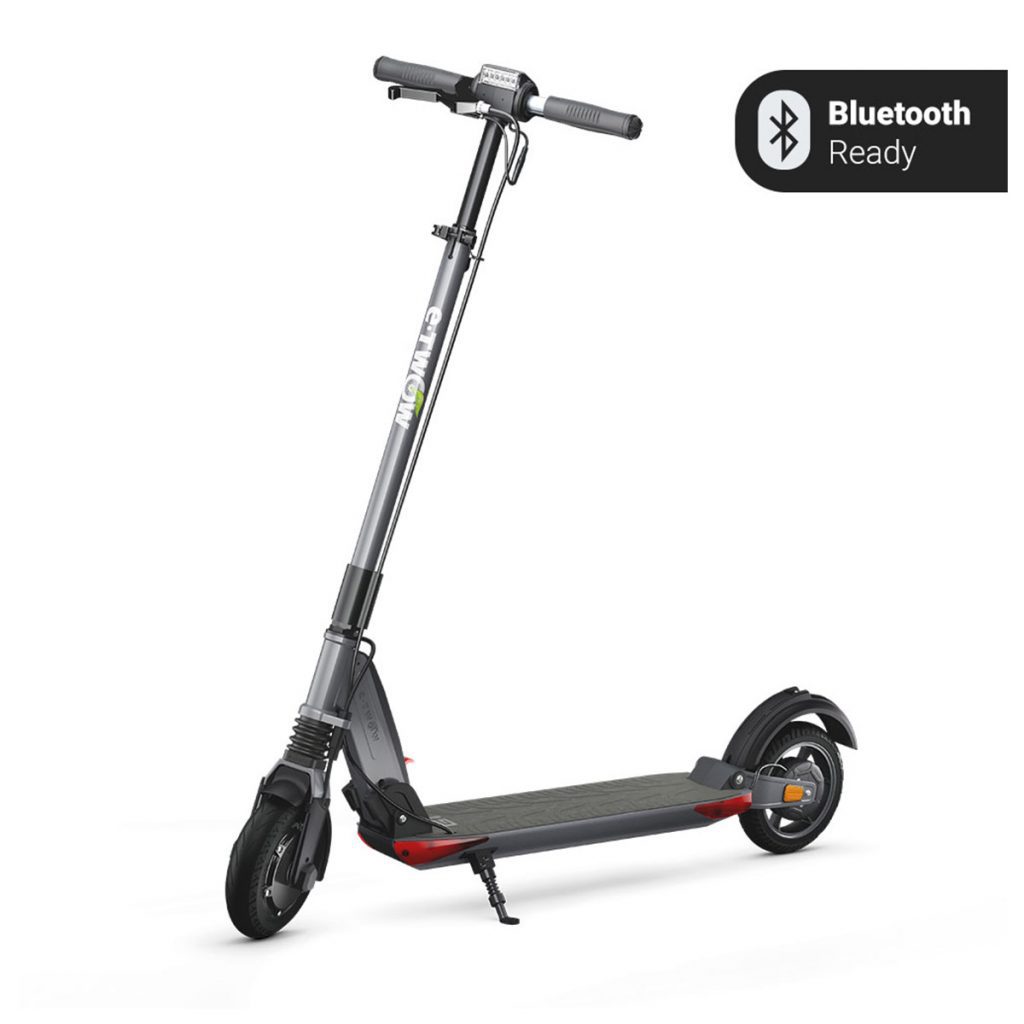 Rider Profile 
Male / 171 CM / 80Kg
Specification (Real Life) (All tested at riders profile)
| | |
| --- | --- |
| Top Speed | 23Mph (Real life Est) |
| Range | 16 Miles  (Real Life Est) |
| Weight | 12.9 Kg |
| Power (Nominal) | 500 Watts |
| Power (Peak) | 700 Watts |
| Battery Size | 48V 10.4Ah |
| Charge Time | 4 Hrs |
| Suspension | F/R(coil-spring) |
| Brakes | F(KERS)/ R(drum/foot stomp) |
| Wheel size | "8" |
| Tyre type | Solid |
| Max rider weight | 120 Kg |
| Dimensions | 106 x 15 x 32Cm |
| Lights | Front/Rear LED |
E-Twow GT 2020 Performance
*All tested at riders profile

Speed
The E-Twow (pronounced E2) GT has a real life top speed of 24Mph, so don't fooled by it's deceiving ultraportable, sleek "kick scooter" looks. 24 Mph is no slouch for any scooter, especially for an ultra portable scooter like the GT. It will keep up with most single motor scooters,  including the powerful ones.
What does this top speed mean? In central London and other urban cities the speeds of cyclists will typically ride between 10 Mph – 25 Mph. Although we do not recommend riding this fast, it does mean the GT scooter has enough speed to keep up with even the faster cyclists. What this top speed also allows, is for you the rider to feel safer and more confident amongst other vehicles, especially on bigger open roads, as you won't feel like the scooter rider who is holding up the traffic, and will be able to blend and flow with open road traffic seamlessly.
With this being said just because the GT electric scooter is capable of higher speeds, doesn't mean you have push it to the limit. The GT will happily accommodate you at more slower and moderate, comfortable cruising speeds, exactly what this ultra portable scooter was built for.
Range 
The GT has a large battery (48 V 10.4 Ah) for its ultra portable category, in perspective, even the larger, heavier Zero 9 only has a battery size of 48V 13 Ah. The GT's  48 V 10.4 Ah gives a real life tested maximum range of 15 Miles. This may not seem like much in the grand scheme of range, however taking into account the intended purpose of this ultra portable scooter, which is to travel  short to medium distances whilst hopping on and off public transport with ease, and pit stopping at cafe's/restaurants/shops, the range of the GT will prove more than enough. Even for us at PET, when testing the scooter amongst our daily lives, we've never felt the GT e- scooter underperform in the range category.
Don't forget the E-Twow series does come as standard with a relatively fast 3.0 Amp charger, meaning you can fully charge your GT in just 4hrs. So fully charging at work won't be a problem or even upto 50% whilst chilling at a cafe for a few hours.
Hill climbing
Okay it's given that the GT scooter is no dual motor monster scooter like the Zero 10x or Vsett 10 + that will rocket up hills. But, with it's still rather powerful 500W nominal motor, we think you will be pleasantly surprised – well it certainly surprised us! Needless to say the GT will not struggle on even steep hills and is a more than capable hill climber, it never failed us. In perspective the GT e-scooter has half the nominal motor power of the 1000W Zero 10 but the Z10 is also much heavier with 10Kg more weight.

Acceleration 
With the GT's powerful nominal 500W front motor, this electric scooter proves to have plenty of acceleration. As already mentioned, the  GT has plenty of power for tackling steep hills, can keep with up with all different paced riders in cycle lanes and can even keep up with urban city traffic of London.  It also has this torquey fun element that isn't found on any other ultra portable scooters. The GT certainly gives the Zero 9 a run for it's money.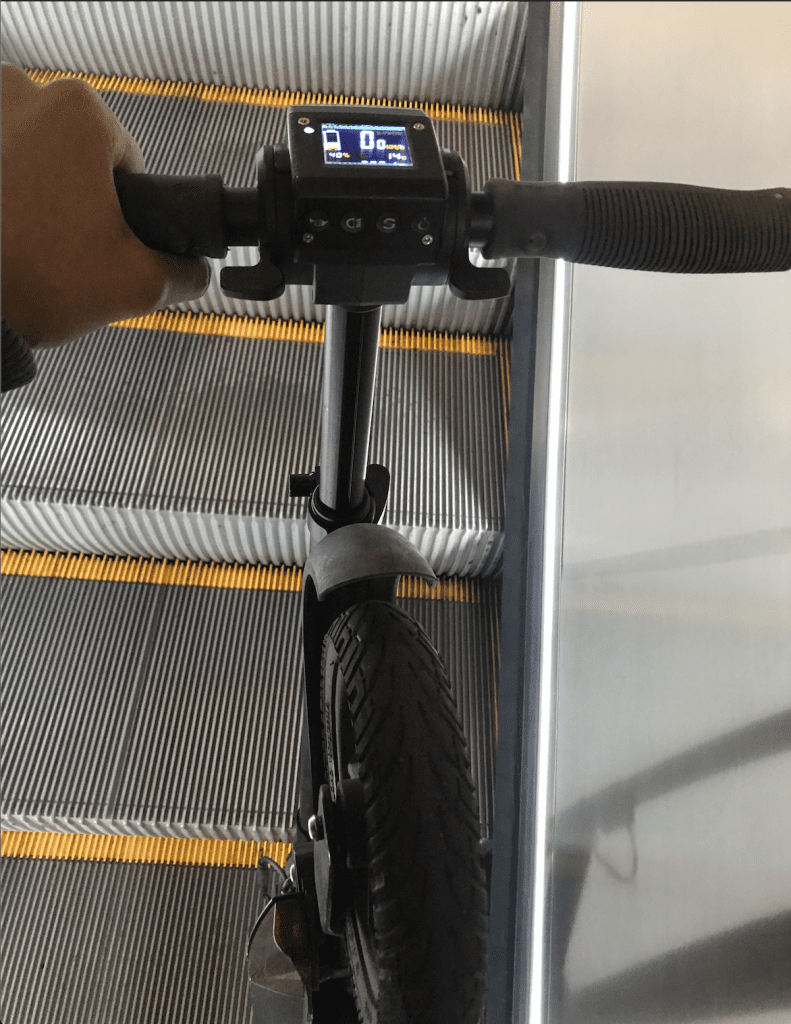 Portability 
Weight 
At  only 12.9 Kg the GT is very light, and can easily be lifted by most people of all age groups with no problems.
Of course the main purpose of a scooter is to be ridden, not lifted/carried. This light weight scooter makes for a very practical and powerful ride. We think the word carrying would be a more appropriate word when talking about manually handling the GT. Usually with heavier scooters we say they can be lifted (up and down) whereas the GT can literally be carried anywhere, anytime with no problem.
Size
Thanks to it's "ultra portable" size, you can take the GT everywhere with you, whether that be:
To social meetings at cafes, restaurants, pubs or parks
To work and stowed under your desk or
Even to do your supermarket shopping.
Something learned from Ben Fox's YouTube review, you can even stow the GT away up in the storage section above the seats on a train, not to mention that storage in cars is a breeze. The GT will be become your companion that you just can't leave alone.

Safety features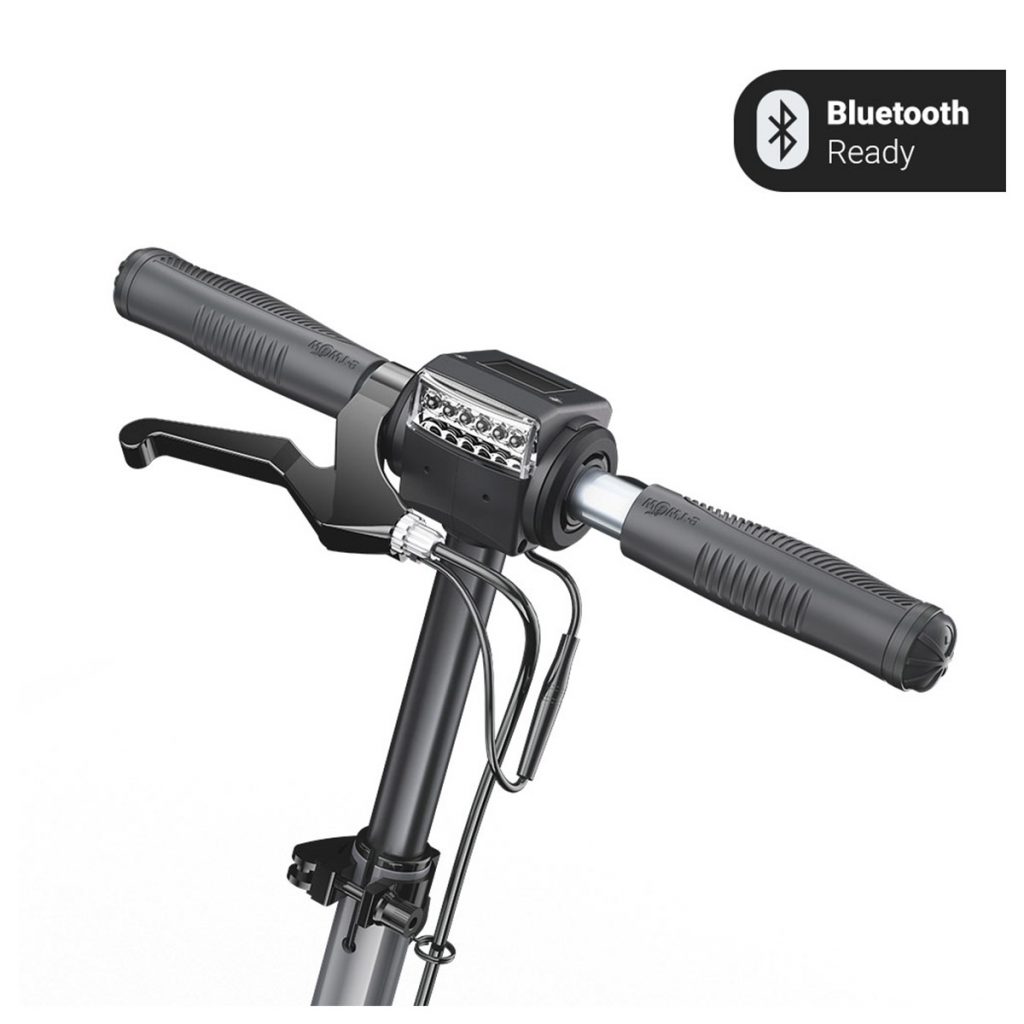 Braking
The new 2020 GT SE had been upgraded, and now comes as standard with 3 forms of braking:
Smooth front Electronic braking and
New addition of the power rear mechanical drum brake and finally
Rear foot stomp brake
All 3 braking forms contribute the overall safe and efficient braking of the E-Twow GT
Suspension
The suspension is one of  the stand out features of the E-Twow brand of scooters. The GT comes with a fully functional and neatly integrated coil shock suspension system.  The excellent suspension of the GT helps to maintain safety by absorbing the unevenness of the road, therefore allowing the GT to stay planted to the road, allowing you to maintain control of the scooter.
Lighting 
The GT comes as standard with a high mounted fully integrated front light, which we really like, as the higher position of the light allows greater visibility of the rider by other oncoming road users. The light its self is very visible from a far, but not dazzling to other road users, the light beam shines wide and short. The rear mudguard is equips with a rear brake light that flashes upon braking. However we still recommend purchasing higher mounted Front and Rear lights for extra visibility to other road users.
Ride Quality and Comfort 
Tyres 
The GT has high quality 8" Solid tyres (non air filled), which make for a slightly vibrational ride on rougher roads surfaces, however much of the vibrations are negated and soothed over by the excellent suspension of the GT. We advise to be cautious when riding on wet or slippery surfaces.
Suspension
What makes the ride quality so special is the amazing E-Twow suspension system. There isn't suspension system or scooter that comes close in it's "ultra portable" category. The GT is a joy to ride whilst you float across the the riding terrain.
Deck
The long and wide deck allows for the rider to find the most comfortable foot position placements, making for a very comfortable ride. Furthermore on longer rides, the user is able to adjust a different foot positioning, making for an even more comfortable ride on those longer journeys. We all know what it's like when our movement is restricted for longer periods of time, from time to time we need to adjust our position and stretch a little, and the longer deck of the GT allows just that.
Throttle / Display 
The GT has a thumb style throttle, which many people have said to prefer over the finger style. The unique thing about the E-Twow's thumb throttle is that it is neatly integrated into the display, whereas other thumb style throttles are known be external and separate from the display.
The E-Twow GT has the highest quality displays of all scooters on the market today. It has a full colour LCD screen that is fully functional, all the settings can be adjusted here. It displays current speed in mph/kmh, the total distance travelled per journey and the total distance traveled on the scooter, battery levels are shown. Overall a beautiful display.
Stability 
Due to the GTs excellent suspension, which soaks up all the bumps and unevenness of the road, therefore allowing the GT to stay planted to the road, allowing you to maintain control of the scooter. Further more Long deck allow you to position your feet, so you as the rider are both comfortable and able to have great control over the manoeuvrability of the GT. Overall allowing for a stable and agile ride at both slow and higher speeds.
Build Quality 
The E-Twow brand is known for it's high quality components and fine design, and the GT is at the top of that. "A regular scooter with an electric motor" you say? Don't be fooled by this scooters looks. Take a closer a look and you will realise it's far from a kick scooter, even better take it for a test ride, and you will realise the sheer depth of innovation within this simple machine.
What makes the build quality so special and successful you ask? The GT is built from the ground, with every part being manufactured in house by E-Twow themselves.
Summary
Pros 
Excellent suspension
"Ultra Portability"
Powerful 500W(nominal) motor
Solid puncture proof tyres
Fully collapsable handle bars and adjustable stem height
High quality fully integrated display
Blue and smart app integration
Long deck
Come with three colour options – Black/Grey/White at PET
Cons 
Solid tyres that are not ideal for autumn/ winter months or wet road conditions, however are fine during dry conditions
No RBG / under deck lighting
Value for money
Priced at £895 at PET the GT is is great value for money. For it's power to weight ratio, the GT e-scooter is pound for pound at a price point that cannot be beaten.
What makes the GT super value for money? Its powerful and fast, it's super lightweight (the same weight as sausage dog!) , it's super compact when folded, but also decently sized when unfolded in the riding position, it has a very respectable 15 mile (real world) range at optimum performance and finally it has very high quality build quality. It really is an all in one package.
Who is this scooter for ?
An individual looking for a "ultra portable" and powerful commuter scooter
Anyone who plans to commute to work and store their scooter conveniently
People who plan to ride and hop and off public transport
Those who live in flats/houses with many flights of stairs
Who this scooter not is for ?
Individuals looking to do trail riding or off roading. Even though the GT has excellent suspension for its scooter class,  the GT was not built to handle off roading. Off roaders should consider the Zero 10 X or the Vsett 10+ or even EUCs which are much better suited for off-roading, as they were purposefully built for the job.
Those looking to ride all year round including the autumn and winter months, should consider other scooters such as the
1) Zero 9/10/10X
2) Vsett 9+/10+
Although the E-Twow GT has high quality solid (non Air) tyres, which are perfectly fine during the spring/summer months, larger pneumatic (air filled) tyres will offer much more grip and stability in the winter months.
If you're looking for a long range, point to point commuter scooter, and need to travel more than 15 Miles, then we recommend choosing scooters such as the; Zero 10/10x/10x Limited or the Vsett 10+ or even EUCs
Conclusion
In conclusion the GT is not only the King of the "Ultra Portables" but also the pound for pound king across all weight classes of scooters. It has the same great DNA and attributes of all E-Twow's; the ultra portability, the excellent build quality and refinement of all the components with the added bonus of extra power of the torquey 500W nominal motor.
If it were even possible to have a perfect do it all in one e-scooter, then the GT would be the one. The GT can travel at higher speeds, accelerate up hill, travel respectable distances, all whilst remaining astonishingly portable, all these features make the the GT one the most practical and versatile e-scooters on the market today.
I hope this blog on the E-Twow GT has been useful and you can take something away from it. If you would like Demo or purchase a PEV please visit or contact PET. I can 100 percent recommend them for their awesome selection of PEV products and accessories, excellent in house and servicing (the best in london) and warranty and most importantly complete honesty and transparency about advice and recommendations, to help you find the perfect PEV to suit your requirements and needs.
If you would like to support my work please follow my social media(listed below) and if you choose to purchase a PEV from PET, the CODE : #goelectriclife will give you 5% off for your first purchase. Full affiliate links are available at my website. Please feel free to message/contact me with any questions, I will be happy to answer, and be of help where possible.
Lastly, remember to wear protective gear, ride safely and responsibly, and enjoy the freedom of green electric transport.
– Phil
Instagram/youtube: @scooterlifelondon
You might be interested in these blogs:
Vsett: The Next Generation of Electric Scooters