Posted on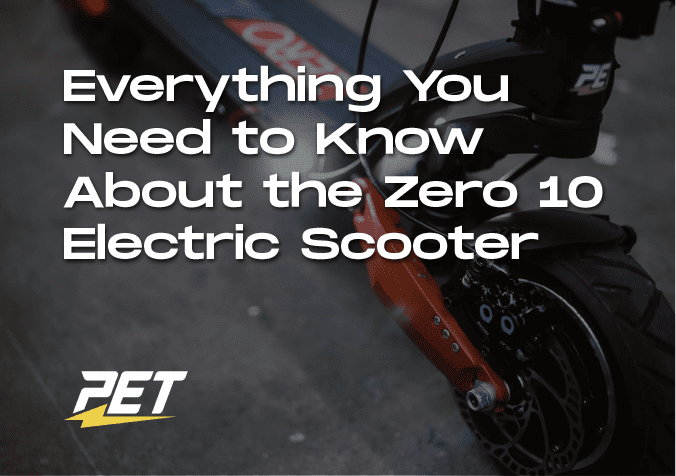 This blog post is a guest blog from Philip Chan  (@scooterlifelondon) and a member of the PET community
Everything You Need to Know About the Zero 10 Electric Scooter
Zero 10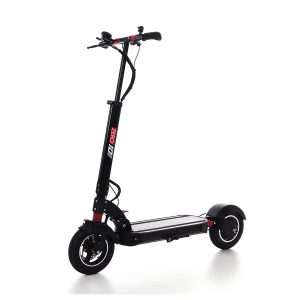 Rider Profile
171 CM / 80Kg
"Zero" is rapidly gaining a reputation for its solid range of performance scooters that offer specs that are unbeatable for the money,  simple, rugged design along with proven quality components are trademarks of Zero.
The Zero 10 is the high performance, urban, long range, commuter scooter of the Zero family. It inherits the same great and unique heritage of the Zero branding, and has been tailored to target those who need the ultimate Point A – B commuter scooter. Packed with performance and safety features, the Zero 10 is great value for money.
Specification (Real Life)(All tested at riders profile)
| | |
| --- | --- |
| Top Speed | 30 Mph |
| Range | 25 Miles |
| Weight | 23Kg |
| Power (Nominal) | 1000 Watts |
| Power (Peak) | 1300 Watts |
| Battery Size | 52V 18Ah |
| Charge Time | 9 Hrs |
| Suspension | F(coil-spring)/R(Air) |
| Brakes | Disk(front/Rear) / Electronic |
| Wheel size | 10" x 2.5" |
| Tyre type | Pneumatic(Air Filled) |
| Max rider weight | 120 Kg |
| Dimensions | 115 x 23 x 45 Cm |
Performance(All tested at riders profile)
Speed
The Z10 has a top speed of 31mph on the flats and 35mph down hill. There are three modes of speed limitation 1, 2, and 3, 30mph for the rider to set and limit maximum speed they want to travel at. The Z10 has plenty of  top speed to keep up with traffic of London/urban cities, but can also be ridden at more comfortable cruising speeds, for those more leisurely rides.
Range 
With its relatively large battery (52V 18Ah), the maximum range achieved was 25 miles (max performance settings, on big long open roads, during the summer months). Realistically this is plenty of range and more than enough for your average journey even your longer journeys. You won't have to worry about running out of battery on your journeys.
Hill climbing
With the Z10's  powerful 1000W single motor (in perspective,  4 x the power of Xiaomi!), hill climbs are not a problem for the Z10, and it's even able to accelerate up hills, whereas the Xiaomi struggles up even medium steep hills. Even with heavier and taller riders( 100+kg/ 6ft +) the Z10 is still able to perform well on steep hills. The maximum speed achieved up hills was 25 Mph(depending on battery level and hill gradient)
Braking
The Z10 has two forms of brakes; the mechanical disk brakes (front and rear) and the electronic braking. The mechanical disk brakes provide powerful instantaneous stopping and the e-braking provides the more linear gentle stopping. Overall Both forms of brakes contribute to the Z10 smooth reduction in speed and safe stopping distance.
Acceleration 
With its powerful 1000W single motor it has strong and smooth acceleration. Keeping up with the stop and start traffic of urban cities will be a breeze, the Z10 also has enough acceleration power to keep up with traffic in more quieter roads of towns and the country C roads.
Portability 
Weight 
At 23KG, the Z10 falls into the medium heavy weight class. It's not so light that you would want to lift it for long periods of time. However it can certainly be lifted for shorter amounts of time and up a few flights of stairs or into the trunk off a boot and onto public transport.
Size
The Z10 is classed as a medium-large scooter. It's not small enough to store under an average work desk in between the seats of buses or trains. However despite it's larger size when fully set up standing, which actually creates a lot of benefits for the rider(including safety, comfort and stability), in-fact the Z10 has many mechanisms to reduce its size. It has foldable handlebars, adjustable stem column and a collapsable front end to deck folding mechanisms.
All these mechanisms allow the Z10 to be compacted down into a relatively small package. Therefore it can still easily be stored at home, you can just about take onto public transport, you can still take it into larger supermarkets and spacious restaurants and cafes and can still store it in the back boot of a medium-large car, or even  a small car with the seats folded down.
Safety features
Tyres 
One of the standout safety features of the Z10 it's high quality CST 10"x2.5" tyres. They offer high levels of grip in both dry and wet conditions, as they have deep grooves for water dissipation. Overall offering very high levels of safety whilst commuting in all weather conditions (on road only)
Braking
The Z10 has two forms of brakes; the mechanical disk brakes (front and rear) and the electronic braking.The mechanical disk brakes provide powerful stopping and the e-braking provides the more linear gentle stopping. Overall Both forms of brakes contribute to the Z10 smooth reduction in speed and safe stopping distance.
Suspension
The Z10 comes equipped with single a front and dual rear suspension, that helps to maintain safety by absorbing the unevenness of the road, therefore allowing the Z10 to stay planted to the road, allowing you to maintain control of the scooter.
Lighting 
The Z10 comes standard with dual front deck lighting-for a more widespread beam, a higher mounted mudguard light-for more forward focussed light, and rear deck lighting-for braking indication. Overall the Z10 comes as standard with some really great lighting. However we still recommend purchasing higher mounted Front and Rear lights for extra visibility to other road users.
RBG/accessory lighting
One of the standout features of the Z10 is the accessory lighting that comes as standard. There is a highly visible blue LED strip on the front of the stem which allows people to see you coming head on from a far, and there is under deck side lighting on each side of the scooter which allows people to see you from the side.
Ride Quality and Comfort 
Tyres 
The Z10's high quality and relatively large CST 10"x2.5"  Pneumatic tyres, negate 90% of the small vibrations from the imperfections of the road and also reduce the impacts of rougher road surfaces and both smaller and larger potholes. Therefore allowing the Z10 to travel longer distances , without causing the rider to become fatigued.
Suspension
The Z10 has a functional dual suspension system; a single suspension in the front and dual suspension in the rear, therefore absorbing the unevenness of the road, resulting in a much more smooth comfortable ride over short and longer journeys.
Deck
The long and wide deck allows for the rider to find the most comfortable foot position placements, making for a very comfortable ride. Furthermore on longer rides, the user is able to adjust a different foot positioning, making for an even more comfortable ride on those longer journeys. We all know what it's like when our movement is restricted for longer periods of time, from time to time we need to adjust our position and stretch a little, and the larger deck of the Z10 allows just that.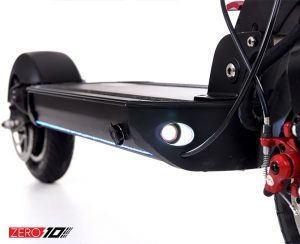 Throttle / Display 
The Z10 has finger style throttle, which allows full control of the acceleration – enabling more smooth linear accelerations and more torquey accelerations . It has has fully functional coloured LCD display, giving you easy access readings of Speed, distance, battery life and can control all the accessory lighting at the click of a single button.  Furthermore the display allows you customise more specific functions, such as power setting, kick/auto start etc. Overall contributing a smooth and comfortable ride.
Stability 
Tyres 
The large CST 10"x2.5"  Pneumatic tyres Provide the Z10 with great stability at both low and high speed. Even on rougher roads the Z10 is very stable. Even during the winter months when debris, leaves and small branches will be on the road, the Z10 will be able to maintain it's traction due to its high quality and grippy tyres.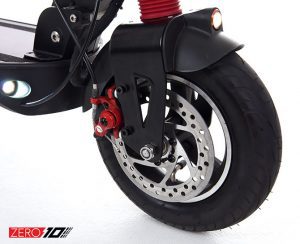 Suspension
The dual suspension helps to maintain stability by absorbing the unevenness of the road, therefore allowing the Z10 to stay planted to the road, making for a very stable ride.
Frame/Deck 
The rather large deck allows the rider to flexibly position their feet and body, in a position that will offer maximum stability, depending on the riders personal preference to feet positioning.
Ride height 
As the Z10 is primarily a long range cruiser, the ride height is high enough to avoid deck scraping but also sits low enough to maintain a lower centre of gravity, allowing you to corner/carve more safely whilst maintaining stability at the higher speeds.
Build Quality 
The Z10 has a really good build quality, with its strong, robust and rugged design(which many people appreciate) that leaves you feeling confident and safe whilst riding. To add to which, the matt black finish enhances the cosmetic durability.
Pros 
Excellent RBG/accessory lighting
Large high quality CST 10"x2.5"  Pneumatic tyres
Powerful rear 1000W(nominal)
Large wide and long deck
Longer range
Stability at higher speeds
Rugged durable finish
Cons 
slightly less portable, due to size and weight
Has powerful mechanical brakes, but could do with upgraded more powerful hydraulic brakes, due to the Z10's higher top speeds.
Value for money
Priced at £1295(at PET/Zero UK) the Z10 is great value for money. The Z10 is a performance packed long range cruiser scooter with great safety features, all whilst maintaining a relatively low weight and high portability features. The Z10 sits in a unique category of it's own when you consider the price point, performance and size and weight. There aren't many scooters that come close in it's class.
Who is this scooter for ?
Individuals looking for a powerful single motor cruiser scooter that has relatively high top speeds, accelerates up hills, can travel a long range all whilst remaining a comfortable ride and packed with safety features.
Perfect for someone looking to travel ranges upto 25 miles (In optimum performance), need consistent top speeds of up to 30 Mph
Someone who needs the higher levels of performance whilst still needs some portability
Who this scooter not is for ?
Despite the scooter's Dual suspension, larger tyres and relatively large chassis, the Z10 is not for individuals planning to do off-roading, as the Z10 was not intended for that. Off roaders should consider the Zero 10 X / limited or the Vsett 10+, which are much better suited for off-roading, as they were purposefully built for the job.
Those looking for a highly portable scooter should consider the ultra portable scooters, such as ; E-twow Booster S/GT.
Those looking a decent portability, yet still pack a punch when it comes to performance, should consider the Zero 9 / Vsett 8/9+
Suggested and optional upgrades 
All available at PET 
Conclusion
In conclusion, the Z10 is a fantastic longer range cruiser scooter, it's not for everyone, but it is for many. It really is a class leader in terms of performance, specification and safety in its category, and at a price point that is hard to beat. If you're looking for a cruiser scooter with upto 25 miles of range (real world), top speed of 30 mph that is comfortable, stable, packed with safety features and only weighs 23Kg?
This is a scooter for you.
Lastly, wear protective gear, ride safely and responsibly, and enjoy the freedom of green electric transport.
I hope this blog on the Zero 10 has been useful and you can take something away from it.
If you would like Demo or purchase a PEV please visit or contact PET. I can 100 percent recommend them for their awesome selection of PEV products and accessories, excellent in house and servicing (the best in london) and warranty and most importantly complete honesty and transparency about advice and recommendations, to help you find the perfect PEV to suit your requirements and needs.
If you would like to support my work please follow my social media(listed below) and if you choose to purchase a PEV from PET, the code: #GOELECTRIC will give you £50 off any purchase over £500. Please feel free to message/contact me with any questions,I will be happy to answer, and be of help where possible.
Social media
Instagram/youtube : @scooterlifelondon
Thanks
– Philip
Here are some related blogs you may find useful:
PET Guide to Scooter Maintenance