Posted on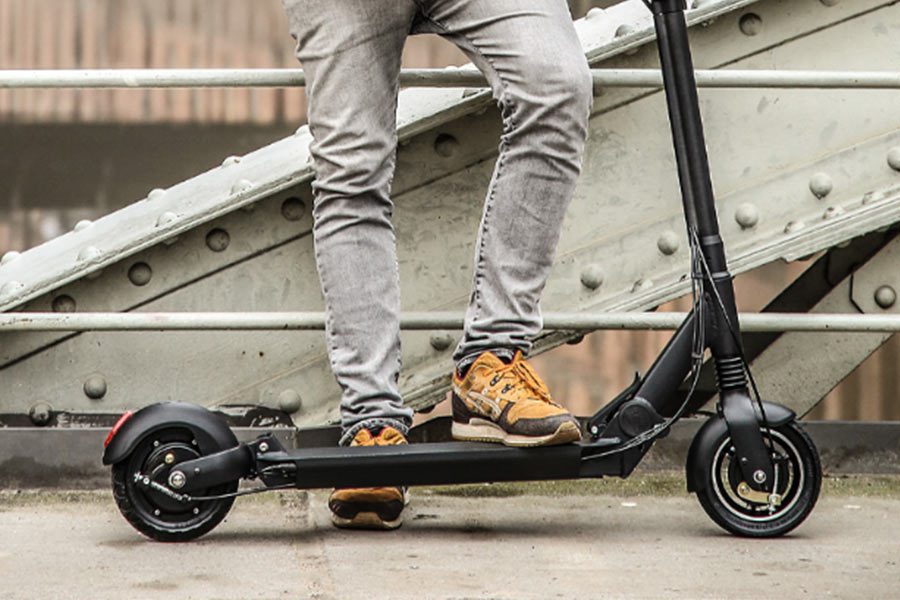 The New EGRET TEN V2
The Egret TEN, for those who don't know it, is the "Mercedes" of electric scooters. It has all or almost all: Big wheels inflated in 10 inches for perfect comfort on any surface: with it, even the paving stones disappear. The sober elegance of the brand: A wide wooden stand board dyed on a structure in matt black aluminum alloy. An astonishing compactness for a scooter with large wheels, folded it hardly take more room than the Etwow Scooters.  A 42km range on one charge and a speed that can reach up to 35km/h. To take advantage of all these advantages, it is necessary to make a small concession to the portability with a weight of 17kg.

So what else you might ask?
The new version of the EGRET TEN V2 electric scooter will now feature two disc brakes, front and rear, the cherry on the cake, it is hydraulic at the rear for more precise braking, both more efficient and softer. The other advantage and not least of this type of brakes is that it no longer needs any adjustments. To integrate this second brake handle and remains easily accessible, Egret abandons the trigger at the index finger for a new accelerator with the thumb. The same type as the version Egret GT which also has two brakes.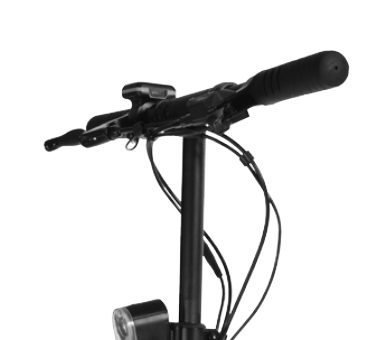 We will also appreciate his new engine: With 60% more torque, it will delight people who seek a more sporty driving and further improve its behavior even on harsh hills.
The Egret TEN will be connected: An application will be available on your smartphone. Its features have not yet been revealed, but it is hoped that it will include a long-awaited anti-start system.
We also note a few small optimizations such as a stand with automatic folding by spring to avoid forgetting and breaking or a new system of a hook for its lighting.
Talking of accessories, the Egret basket will be compatible with the handlebar of the egret Ten and it will have its own carrying bag coming soon.
The last good surprise is that its price will be the same £1340. ETA mid-September
The New EGRET EIGHT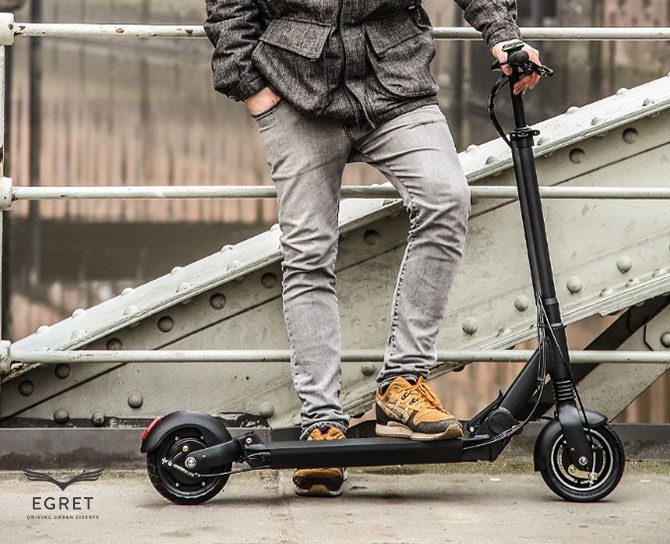 In its range, Egret has two 6-inch urban scooters and a 10-inch ultra-comfortable scooter. It is quite natural that the brand has decided to complete its offer with an 8-inch scooter so it comes to fight on the grounds of Inokim, Etwow … This intermediate version, the Egret Eight, comes with a front inflatable wheel, shock absorbers front and rear springs for comfort. In terms of features, the new urban electric scooter will have up to 30km of range (36V 8.7Ah) and a speed that will reach 28Km/h on a total weight of 14Kg. Braking will be similar to that of the Egret One GT with has two front and rear drum brakes. We find the large rear mud guard type Egret Ten with integrated lighting great in terms of comfort on rainy days. The display and throttle control will be identical to its big brother the EGRET TEN V2.
Egret Eight: £1040.
With the egret TEN V2 and the Egret Eight, the Germans make it clear that it has heard the dreams of its customers! its evolutions reinforce the EGRET in its position of a high-end e-scooter brand.