Posted on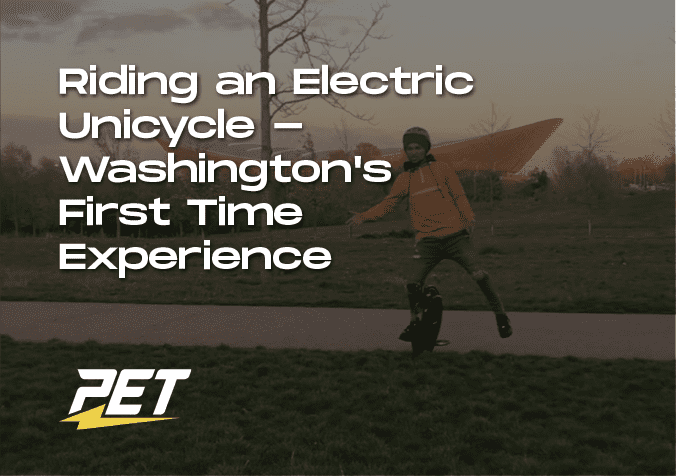 Washington's Experience Riding an Electric Unicycle for the First time
Washington came to the Personal Electric Transport showroom in Leyton a few months ago, with a keen interest in electric urban mobility. You may have read his guest blog on the E-Twow GT electric scooter which instantly won him over.  Anyhow, Wash was truly blown away by the freedom of travel he experienced at the same time as doing his bit for the environment by going electric.
Ever since getting his hands on the E-Twow, Wash has jumped on anything with wheels in the PET range and recently his attention has been caught by the wonderful world of the Electric Unicycle.
These highly portable electric vehicles also known as EUCs, ewheels, iwheels, monocycles or monowheels, are unlike anything most people who come to our shop have ever ridden before but tend to be a favourite among those who have tried skiing on the slopes.
What is an EUC exactly?
An electric unicycle is  self-balancing personal transportation device with a single wheel. EUCs use the movement of the rider in combination with a  gyroscope or accelerometer to start, stop and steer. Extreme wheels can reach up to 60 mph and boast incredible suspension technology.


This vlog is the first of a PET mini series dedicated to a beginner rider's experience of Electric Unicycles. While we're huge fans of Kuji Rolls, Hsiang and Chooch youtube channels, we thought that it's pretty important to show people what it's really like to start from 0 on the learning curve of these micromobility machines.
Wash will be getting to know each of the electric unicycles stocked by PET while getting familiar with different riding situations in the UK.
Tell us what you'd like to know about riding electric unicycles by commenting below or emailing us at hello@personalelectrictransport.co.uk and we'll do our best to answer in the next vlog!
If you're interested in learning how to ride an EUC, book a test ride on a Saturday at our Leyton Showroom in London.
Ride Safe
⚡️ Team PET
Here are some other useful articles about Electric Unicycles:
The Protective Gear Guide 

Why I Decided to Start Riding EUCs and Why You Should Too