Posted on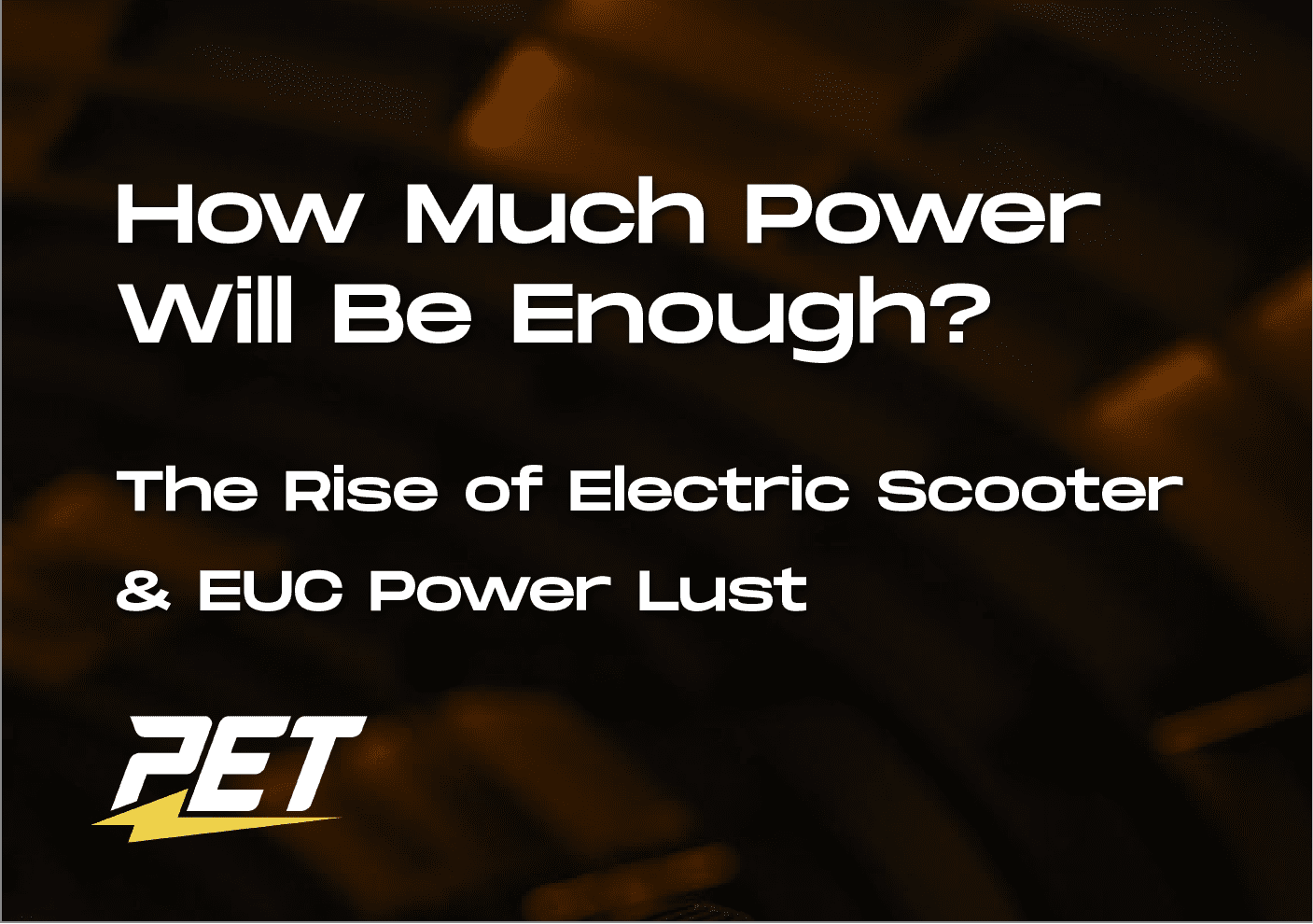 Just how much power is enough for an electric scooter or an electric unicycle?

At PET we like the fast stuff.  Anyone who has paid us a visit at the shop has seen the collection of wheels (electric unicycles / EUC) that we all ride and are pretty crazy about.  We also like fast electric scooters.  However, there is a big BUT….
Power is nothing without control.  Any car nut will tell you that the last thing you should be thinking about if you want to go fast is the motor.  Before you can go quickly, you need to be able to stop quickly.  Also, you need to be able to go around corners safely at increased speeds.  Going fast in a straight line is the easy bit!
Li-Ion battery technology enabled the modern e-scooter industry.  The original scooter designs from manufacturers such as Inokim and E-Twow were designed for speeds up to around 20 mph.  These scooters were reasonably well engineered and fit for purpose.
We are now seeing the introduction of much faster electric scooters.  These models are often three or four times heavier than the early models from E-Twow and ten times more powerful.  So it begs the question, are these super electric scooters simply electric motorcycles without a seat?  Some of them actually do come with a seat…
There is nothing wrong with bending the form of a motorcycle so you can stand up rather than sitting down.  And obviously using electric power can only be a good thing.  However, if you buy a type-approved motorcycle in Europe that is capable of 70 mph, regulations and directives that have evolved over time in a mature market place guarantee standards of safety and quality.  Unfortunately, this is not true of the electric scooter market, which is only around 8 years old. 
New waves of electric scooter manufacturers in China understand that power sells.  Spec sheets promise huge power from large batteries and motors and the pricing is very attractive.  Unfortunately, it is all too easy to add watts to a cheap frame that is not designed to handle the sort of performance available. 
At PET, we are seeing electric scooters capable of 50 mph plus with no thought given to suspension, ride stability, braking and structural integrity.  We are yet to see one electric scooter with 11" wheels that we would ride personally.  And we love the fast stuff…
If you are looking for thrills and you still haven't discovered EUCs yet (!), then we would humbly suggest that you consider the following advice:
So, in summary, we believe the problem with the current crop of super-scooters is a complete disconnect between the designers and the marketplace.  There is no electric scooter scene in China.  Manufacturers will simply produce what sells and power sells electric scooters. 
We sincerely hope that the community and the market will cause the manufacturers to improve their products.  After all, a fast electric scooter that handles and stops as well as it goes will sell!  However, the current popularity of faster electric scooters risks a big accident and the inevitable backlash that will follow. 
Ride safe,
⚡️Team PET
Here are some electric scooter articles you might find helpful:
Where To Buy Quality Electric Scooters

PET Electric Scooter Maintenance Guide