Posted on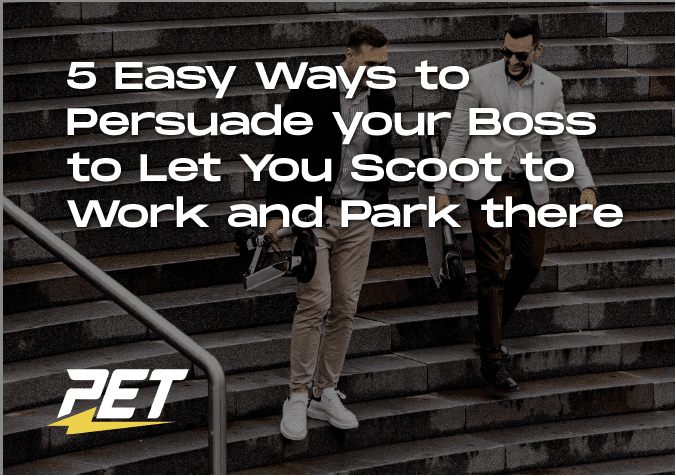 At Personal Electric Transport, we believe that e-scooters are the future. Not only for a ride around the city or an afternoon with your friends but for travelling from A to B and reducing your impact on the environment. Indeed, it's much better on the planet to ride around on an e-scooter than hailing an Uber or taking your car to the Post Office. Scooting makes sense
If only there was a scooter parking lot in every office block! 🛴😂 📸 Source: u/murraysdad on Reddit
However, if there's nowhere to store your scooter, it can be tough to get by and use it on a daily basis – especially when you're spending most of your time at work. Below, we've put together some of the best ways you can persuade your boss to let you e-scoot to work…

1. Show them your e-scooter
Although e-scooters have exploded in popularity, many still don't understand what they are or how they work. If you want your boss to get behind you and offer you space for a scooter, then show them. Bring your scooter into the office, explain how portable and lightweight it is and put across your passion – they should quickly get behind it and offer up a cupboard!
37 Likes, 0 Comments – #PET All Electric (@personalelectrictransport) on Instagram: "Out and about on your scooter? Be sure to tag @personalelectrictransport and we'll feature you on…"

2. Explain the health benefits
E-scooters are not only better for the environment, but they're good for your health, too. It's a myth that e-scooters don't require physical exercise. Sure, you can power up a scooter and take it easy when you're riding through town, but you'll still need to use your legs to absorb shocks from the ground, and your arms to stay balanced. If your boss knows you're going to be more alert and productive, then they'll naturally want to support your e-scooter decision.
3. Give up a parking space
Another way to persuade your boss to give you some room in the office is to forfeit a parking bay. Making the jump from car to e-scooter can be tough, so weigh up the pros and cons and remember that you may not always want to ride your Zero 10X, especially if it's raining. Use this as a last resort and think twice before you sign over your parking spot to someone else!
4. Create a bay in your spare time
If your boss is happy for you to park your scooter in the office, offer to create a bay or make room in your own time. Stay back at the end of your shift to clear out an unused cupboard for your scooter, create an area behind reception where you can charge your scooter, and find a spot where your scooter won't get in the way so that your manager doesn't change his mind.
5. Show them it was the right decision
Finally, show them that giving you space for your electric scooter was the right decision. Arrive at the office a couple of minutes early, tell your colleagues that you're enjoying riding to work, and get other people involved in the action. You could offer an e-scooter demonstration in your lunch breaks, or post your scooter on social media to show customers that you're a fun, energetic and dynamic bunch. Who knows? You might create another e-scooter convert!
Scooting to work offers numerous benefits to your health, stress levels, and the environment, so give it a go and let us know how you get on. If you're looking for an upgrade this year, or you want to treat yourself to some accessories, like a travel bag or shopping basket, you'll find it all right here on the Personal Electric Transport website. Click here to start shopping.



Here are some more useful articles about electric scooters:
PET Guide to Electric Scooter Maintenance