Posted on
This blog post is a guest blog from Philip Chan  (@scooterlifelondon) and a member of the PET community, sharing his thoughts on protective gear after years of riding.
How to Choose the Perfect e-Scooter for You
The reality is, much like in the case of cars and bicycles, there isn't a single electric scooter (ES) that is perfect for everyone. However the great news is, there is a perfect scooter for you, and this guide is to help just do that.
Whilst one scooter may be ideal for me, it may not be ideal for you.
Many of us a people are persuaded to buy a particular scooter based on reviews found on youtube, blogs, social media platforms.
This is a great way to find real life informative insights about the ES and about that individuals rider experience.
With that being said, this approach can be misleading in finding the ideal electric scooter for you. All people are different, we have different riding styles, needs, riding environments, therefore that person's riding experience and personal review is ultimately tailored to that specific person.
The most important thing in finding the ideal ES for you, is finding out what your specific requirements are.
There are a number of factors to consider carefully when identifying the right adult scooter for you; portability, performance, safety features, price, rider size(weight/height) and the type or riding/journeys you will be doing. Then going and testing the scooters/PEV in real life to finalise the perfect ES for you.
There are a number of factors to consider carefully when identifying the right ES for you:
Portability

Performance

Safety features

Price

Rider size(weight/height)

The type or riding/journeys you will be doing

Testing the scooters or personal electric vehicle PEV in real life
Portability
Weight of the Scooter
Weight
Weight is a very important factor to consider and one the key starting points into choosing your PEV/ES.
You're going to want to know how much weight you can carry and how much weight can you live with in your personal situation.
The matter of the fact is, if you can't lift your scooter or if the weight of your scooter does not fit with your personal situation in your daily life (walking up and down stairs or steep hills) then your electric scooter will likely hinder your lifestyle rather than ease and assist your "freedom of transport".
Of course there is one exception to this, if you never need to lift or manually move your scooter, then weight won't be an issue. But most people, regardless of if it's frequently or in-frequently, will need to lift their PEV at some point. Whether it's lifting your scooter to go up stairs if you live in a flat or if you need to put your PEV into the boot of a car/taxi or carrying your PEV onto public transport.
The weight of ES/PEV can range from light(10.8Kg-15kg), mid weight(16Kg-25Kg) and Heavy(26kg-66kg)
ES/PEV size
You also want to consider the scooter size and dimension, as getting the right size scooter will also lead the ride satisfaction of the user.
Two things to take into account when thinking about scooter size. Firstly roughly how big am I as a rider? Am I a small, medium or large rider? Naturally your size will need to be the relative size scooter to fit your needs.
A small rider will not find comfort and satisfaction in a scooter that is excessively too big for them, the same applies for a large rider on a scooter that is way too small for them. Secondly the type of riding you will be doing with your PEV. For those more casual, short distance, leisurely rides or chores to supermarkets or to meet friends at cafe's then a smaller-medium size scooter will be more suitable, as you will have greater portability and convenience.
However for those individuals using their scooters primarily for longer distance commutes to work etc the maybe a medium to large size scooter would be more preferable, as it will provide higher levels safety, stability, overall better performance more satisfaction to the rider.
Linked into electric scooter size, is storage. Ultimately ES/PEV need to be stored inside for security reasons. Whether at home, work or even in public places like cafes and restaurants you will need to consider storage. Where you plan to store and use your scooter will ultimately dictate the dimensional size of scooter you will need to consider.
Safety features
Safety features are another very important factor you must consider and not overlook. As much as performance is important, you need the safety features and performance to match that. There's no point to go fast if you cannot stop. You can never have too many safety features. The more ,the better.
As minimum requirement I highly suggest choosing a scooter with the following ;
Front and rear mounted lights
8.5"x 2" or 10"x3" pneumatic tyres
Two forms of breaking – Mechanical brakes/s electric breaking –
with at least one form of braking on each wheel
Bell or Horn
Ideally choose a scooter with the following;
Multiple front lights both wide and focused beam, to see and be seen
Multiple flashing rear brake lights
Dual hydraulic braking with electronic braking with ABS
Dual suspension
Bell/horn
Turning signals/indicators
RBG or front stem lighting or under deck lighting
Note. The level of safety features should be relative to the performance of the scooter you purchase.
Of course if the scooter of your dreams doesn't tick all of these boxes you can ask the scooter dealer if they can upgrade the features you want. PET has a workshop that is super helpful for upgrades and accessories.
Performance
Range
Range is an important factor to consider, as you will want to purchase a scooter that can travel the range of the total distances you will be commuting each day or every few days (depending on how often you charge your PEV).
Many buyers try to go overboard with this, and try to purchase a scooter with the maximum range possible, looking for scooters that can do more than 50 miles. Of course having a scooter with a huge range is great, as you can travel limitlessly and don't have to worry about running out of battery. However a long range scooter has cons and consequences. A bigger range requires a larger battery, which leads to a lot more weight and also requires a bigger chassis to hold the battery, overall you end up with a heavier larger scooter.
So the important point here is yes you need to get a scooter that has the real world range you need to carry out your daily journeys, however consider a realistic max range that you would need to travel, and try not to go excessively over that estimation, as essentially you will be carrying a scooter that has excessive amount of size and weight therefore sacrificing portability for no reason. From my experience, your average rider in London commutes a total range of anything between 5-20 miles in a day.
Don't forget you're most likely to be charging your scooter most nights so having excessive amounts of range is unnecessary – unless you're doing a  road trip across continental Europe…
Top Speed + Acceleration
Although initially not the most important part of choosing an electric scooter, nevertheless both top speed + acceleration are important for rider satisfaction.
People have different speeds that they feel comfortable riding at, is if the PEV you choose does not satisfy your speed and acceleration requirement, you will consistently find yourself unsatisfied and wanting more. Therefore it is important to consider speed/acceleration when choosing your PEV
Hill Climbing Ability

Hill Climbing is inevitable at some point on your journey, and not being able climb that hill successfully and having to use kick assistance or push, is a really disappointing feeling.
So when choosing your PEV, consider a PEV that will have enough power to get you up those hills successfully. Rider weight and height are important to figure out how much power you need.
In general scooters of 350 watts or less will struggle on hills, 500W-700W usually can handle most hills and 1000W + will generally power through hills – note these guidelines may vary depending on your height to weight ratio. If your ride includes a lot of hills to tackle, you'll benefit from more powerful scooters, the same being for heavier riders, they will also benefit massively from dual motor scooters.
Braking performance
Braking performance is often one of the most overlooked features that is not often taken into careful consideration when choosing a PEV, but in fact is one of the most essential factors that needs to be taken into account.
If you don't feel confident that your scooter can stop safely at it's full range of speeds,  you won't feel safe and confident riding your scooter. It's extremely important for satisfaction and safety purposes to go for an e-scooter with the best braking performance in it's class.
From experience, choose a scooter with at least one physical mechanical brake and electronic braking, so that you have effective braking systems in each wheel.
For high performance scooters the best combination is powerful hydraulic braking on each wheel with the addition of electronic braking (Including ABS) this will allow a powerful stop, efficiently reducing your speed without skidding your tyres.
Upgrade Nutt and Magura hydraulic brakes are available at PET.
Price
Although price is very important, and most people have a budget, if you initially dictate your electric scooter choice by price, then you may find yourself rather disappointed. The truth is most "budget" scooters don't have enough performance.
I highly recommend trying to establish your requirements for your electric scooter first and really finding out what you need and want, before limiting yourself by price. This will help you find the perfect scooter for you that you'll be very satisfied with, granting you access to the ultimate "freedom of transport", even if it takes a little longer to get your hands on it.
So you've established your requirements and found the scooter model you want, but it's not within your budget?  I highly recommend  waiting and saving until you can afford the ideal scooter for you. Alternatively you can ask the electric scooter dealer if they have any finance options available. PET has duology as an option for financing.
What ever you do – don't by a lower budget scooter as it will most likely lead to;
1) disappointment – as it will not satisfy your needs 2)upgrading to another scooter later – costing you a lot more money in the long run.
Rider Size
Your personal overall size in terms of weight and height is important to consider when choosing your e-scooter. Your dream scooter  will not perform the same way for Rider A (lighter/shorter) as it will Rider B (heavier/taller). In general, the lighter the weight and shorter the rider the better scooter will perform, the heavier and taller the rider the more the performance will be hindered. Therefore whilst smaller riders can get away with less powerful scooter, I recommended larger riders to consider electric scooters with higher performance.
Rider Size – Weight/Height
Small : 50-60Kg / 5ft – 5.3ft
Medium : 60-89kg – 5.4-5.9ft
Large : 90+kg/ 6ft +
Note –  this is only for reference as a rough estimation.
Smaller Low performance scooter specs
Motor power : 200W – 350W (nominal)
battery size : 36V 7.3Ah-
Medium size and mid range performance scooter
Motor power : 600W – 1000W (nominal)
Battery Size : 48V 10.4Ah – 52V 18Ah
Larger High performance scooter
Motor power : 2000W – 5000W (nominal)
Battery Size : 60V 21.3Ah – 72V 35Ah
Other important points to consider
The purpose of your PEV and what you plan to use it for ?
Are you just planning to use your scooter leisurely to meet your friends and family socially, at cafes, parks?
–  A smaller, highly portable, would be more suitable.
-Recommended ES: Xiaomi 365 Pro and Booster S+, both available at
PET
Are you planning to use your scooter for shorter distance commutes to shops, to work, but still hop on and off public transport?
– A medium size mid range scooter would be ideal, as you have the best of both worlds – power and portability
-Recommended ES: E-twow GT SE ,  Zero 9 available at PET and Vsett
8 coming soon to PET
Are you planning to use your scooter primarily for commuting longer distances from A-B ?
– A larger and higher performance scooter would be ideal
-Recommended ES: Zero 10,  Zero 10x, both available at
PET,  Vsett 9+ Vsett 10+ coming soon to PET
Are you planning to use your scooter as a weekend off road warrior ?
– You'll need to choose a scooter that is specifically built for off-roading, a scooter that is well equipped to handle the conditions of off-roading terrain.
– Recommended Electric Scooter: Zero 10x 60V is available at PET and
Vsett 10+ coming soon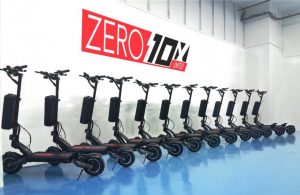 Conclusion
There are many factors to take into consideration when choosing your perfect e-scooter. Firstly identifying your personal needs from and figuring out what specifications will work for your journey conditions and size, will help you to find the PEV with the specification that can best meet your personal needs.
Successfully choosing the most suitable PEV for your personal will lead unlimited satisfaction and "ultimate freedom of transport".
After discovering the perfect scooter for you, the last, but super important step is try the scooter for yourself. A scooter on paper is a different scooter in reality, by trying the scooter personally you can finally find out if it's really the right scooter for you.
Luckily,  Personal Electric Transport offer live demo testing on all models they sell at their showroom in London.
I hope this blog on choosing the perfect scooter for you has been useful for your PEV selection.
If you would like Demo or purchase a personal electric vehicle please visit or contact PET. I 100 percent recommend them for their awesome selection of PEV products and accessories, excellent in house and servicing (the best in London) and warranty and most importantly complete honesty and transparency about advice and recommendations, to help you find the perfect scooter to suit your requirements and needs.
If you would like to support my work please follow my social media(listed below) and if you choose to purchase a PEV from PET, the CODE : Goelectriclife will give you 5% off for your first purchase. Please feel free to message/contact me with any questions, I will be happy to answer, and be of help where possible.
Social media
Instagram/youtube : @scooterlifelondon
– Philip