Posted on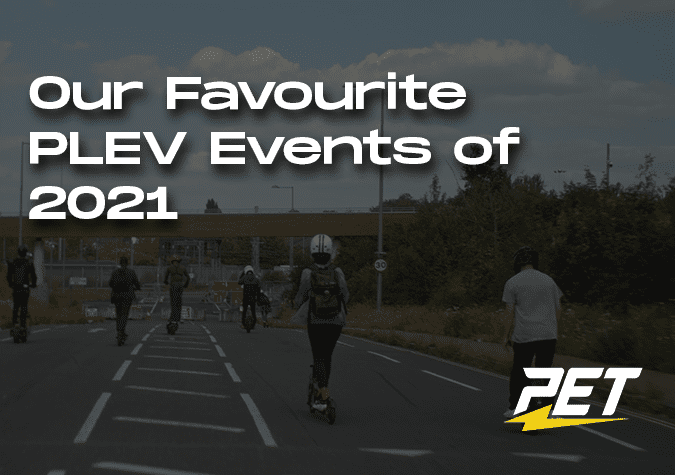 Our Top 5 Moments for 2021 and what why we're looking forward to them in 2022!
This year has been quite eventful for PET and PLEV community to say the least!
Crawling out of lockdown, it was awesome to be apart of large groups for ride outs and events as well.
Here were a few of our stand outs.
1. Cyclo Park All PLEV Event,  Gravesend
For the first time on UK soil onewheels, EUCs, Scooters, Skateboards on one track all riding together harmoniously.
Everyone was invited to join the fun.
"What a mind blowing experience. After many challenging months of social distancing, having the tracks only for like minded people was Perfect. I was being able to push the custom Fiido and Vsett10+ to the limits, compete against myself and release all that lockdown anxiety.
Oh man! That day I spread my wings with the freedom and adrenaline. What an experience!
I was literally Trinity on the Fiido, skipping past people on wheels and scooters full speed.
Since then my life is since sponsored by Nutt brakes!" – Kayla, PET
We've been exhibiting at Fullycharged's annual events since 2018. This year it really solidified it's status as the UK's largest electric vehicle and even perhaps in Europe! This year we showed a thorough selection of our range and the electric unicycles really peaked interest.
"There is a specific moment that is written all over someone's face when it clicks. The potential of personal, lightweight, electric vehicles suddenly becomes very real to people trying them for the first time. Watching people get a first taste of electric unicycles at Fully Charged Live was one of my personal highlights of 2021!"
– Mark, PET
3. Meeting people who supported ESDF, Fullycharged Outside
The fact that the Fullycharged brought a whole lot of like minded folks who are interested in the electric revolution together in one place.
"After having to campaign against the current policies for PLEVs online, it was nice to get to know the people who really got behind the cause. Connecting with people who see the potential for a better future with the use of micro-mobility really gives us hope."
– Natalya, PET
4. Critical Mass
The London monthly rides started in April 1994. It isn't just for cyclists, sometimes there are wheelchair users, skateboarders, roller bladers and skaters, and other self-propelled people.  It's an excellent opportunity for PLEV enthusiasts to enjoy a ride out
Cycle sound systems often accompany the ride, creating a colourful, party atmosphere that welcomes riders of all ages and abilities. It is a family-friendly event that relies on participants being considerate to each other and to other road users, even if we do hold their journey up for a couple of minutes.
"It's an amazing community! It's a feeling of freedom and revolution, peace and love."
– Vlad, PET
5. Warwick Uni Micromobility Event
Warwick University hosted the UK's first dedicated micromobility event. For the first time, manufacturers in the micromobility sector, prospectors of the micromobility sector, scheme operators; regional transport authorities, city councils and local authorities, Government agencies, research organisations and more were invited to attend. We came together to talk the challenges and solutions presented by latest inovations in transport and PLEVs.
– Mark, PET
Read more:
How Micro Mobility Can Change Your Life