Product Description
The E-TWOW S2 Booster Plus is the newest electric scooter manufactured by E-TWOW. It improves the state-of-the-art equipment that made the success of its predecessors. Its dimensions are ideal to maximize: comfort, weight, autonomy, and speed
With the Booster Plus, you'll have:
- optimized driving for novices and experienced users
- more comfort and safety for your daily commute
- various aesthetic improvements
And as for all the ranges of scooters E-TWOW:
- Range above average portable electric vehicles.
- Classic scooter looking with a low-profile platform and freewheels for use as a classic scooter
- Modern with a color LCD display showing the speed, distance traveled as well as the level of charge of the battery
- Secured with very powerful front magnetic brake, rear mechanical backup brake, and more grippy rear wheels
- Powerful front lighting with 6 LEDs to be visible during the night
- Compact and lightweight to carry easily at home, under your desk at work and in public transport (train, tube, bus)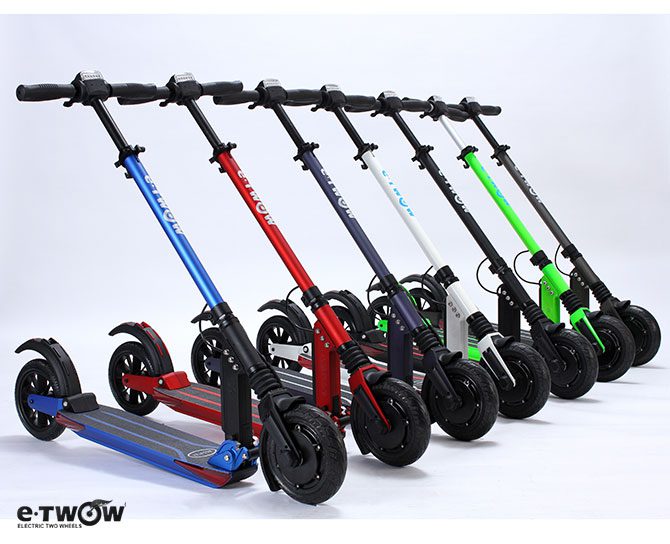 Changes & Improvements
New Controller:
The BOOSTER PLUS was designed around the new controller, which has an updated control unit that allows for the Booster to accelerate smoother and in a progressive manner and to break stronger and in a shorter distance.
So, when the accelerator is pushed, no matter if it is pushed all the way, the acceleration will go slowly to the maximum speed, not sudden as the normal Booster.
The new maximum speed is 45 km/h.
With a design modification, the new controller support solves the wire abrasion issue and allows for the controller to be easily mounted.
New Display:
The BOOSTER PLUS comes with a new type of display. The aesthetics and the software are updated.
The display features a new colored appearance and the software allows the battery level displayed to be more accurate.
Also, the new display allows for the speed and cruise control settings to be easily set, showing exactly what you are choosing when setting them. (instructions enclosed).
New Rear Wheel:
The rear wheel of the BOOSTER PLUS is now more flexible, offering a better adherence and a smoother ride. It is airless but has multiple layers of rubber that allow for the wheel to be softer and stronger.
New Charging Port:
The BOOSTER PLUS comes with a new charger and an improved charging port, that is not only waterproof but also allows the charger to be inserted in a simpler and safer method, thus protecting the charging pins.
Side and Rear Reflectors:
The BOOSTER PLUS features 4 side reflectors, 2 on each side, so it can be safer to use and easier to spot in traffic.
Thicker Platform:
The platform becomes thicker in order to accommodate the side reflectors and to allow the battery removal to be easier.
New Motor Cable Tie:
The motor cables have a new binding system so that it looks better and also protects the cables from being damaged.
Weight – 10.8kg (23.80 lbs)
Top Speed – 43 km/h
Range – 40 km (24.8 miles)
Battery Li-io 36V 10.5Ah
Recharge Time – 3 hours
Suitable for hilly areas up to 25% rise
New Setting P3 for more torque uphill
Shock absorber: Front shock absorber + Rear shock absorber
Light: Front LED lighting group (Include 6 LED, CPU controlled for a light intensity independent of battery voltage) rear and brake tail light.
Cruise control function: Yes, press the acceleration right thumb and keep the same speed for 5 seconds and the cruise control will automatically start
Zero start function: Yes, for safety reasons, when you want to ride the scooter, you should use your foot to slide it for a little distance, then press the right thumb accelerator and the scooter will go ahead
Horn alert function: Piezoceramic horn
UBHI: Uniblock Human Interface (patent)
UBHI function command: Throttle control, braking control, display, lights, horn
Speed control mode: On the right side of UBHI control the acceleration using thumb
Brake control mode: On the left side of UBHI control the brake using thumb
Grade Ability: 25-degree slope (15 mph)
Tires: Airless Tires (patent)
Motor rated max. power: 500W
Motor type: DC Brushless motor Energy consumption: 7.15Wh/km