Posted on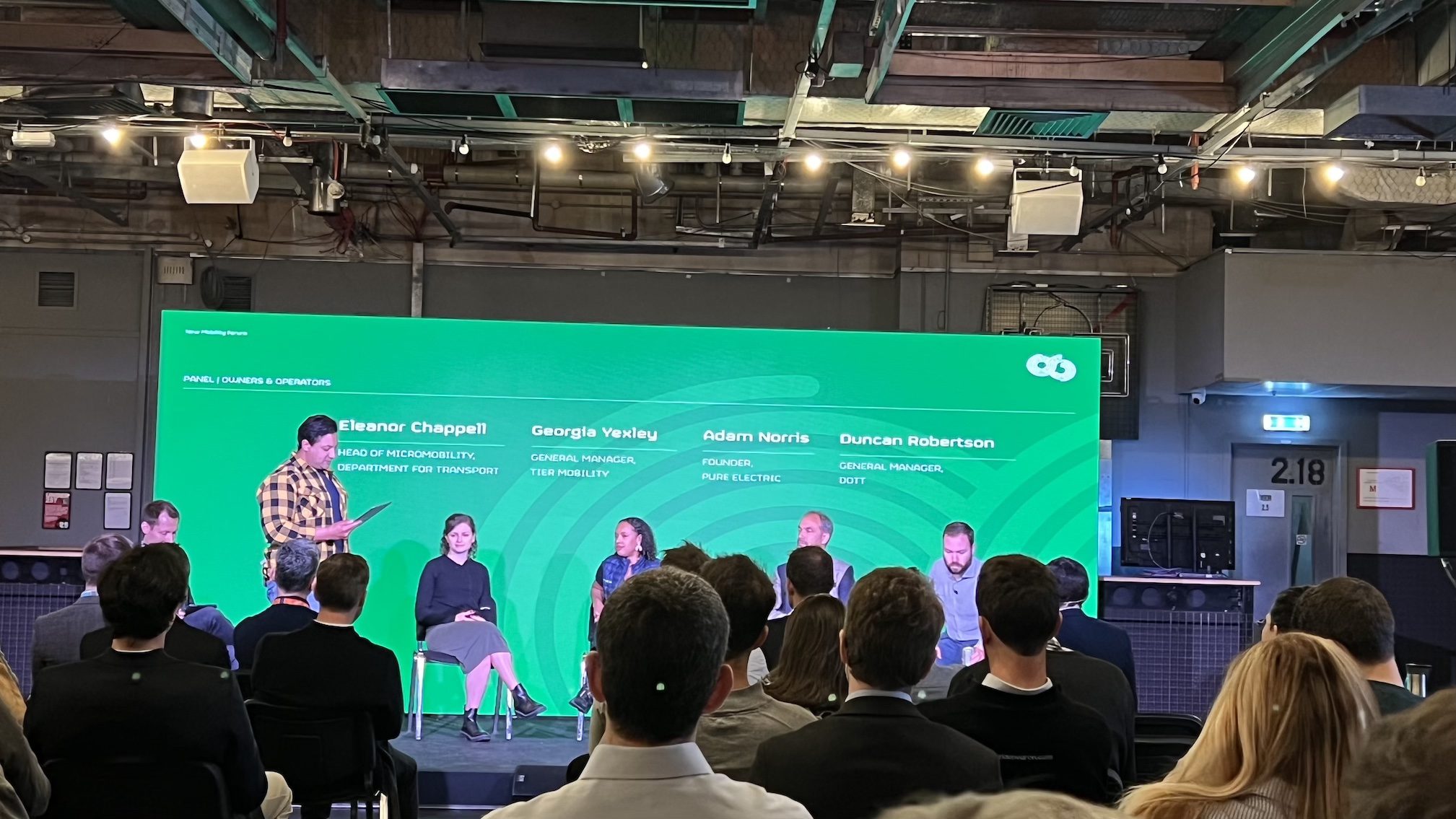 eSC Live: New Mobility Forum – Words from the Owners and Operators
Team PET was invited to the New Mobility Forum, by Esc x ZAG magazine to discuss micro mobility in the UK with juggernauts of the industry.
Leaders from TfL, the Dft, Tier Mobility, Pure Electric, Dott, The AA, MAAP, Helbiz and more came to discuss the roadmap ahead of us.
It was pretty exciting to be in a forum that was dedicated to the issues that are pressing in the UK transport industry today, with in mind a safer, cleaner world for everyone.
There were two sessions in the New Mobility Forum, one focusing on Owners and Operators and the other focusing on Policy Makers.
Between these two groupings, it was clear that cross collaboration is the only possible way forward to tackle the issues around legislation, policy, infrastructure and behaviour change.
What The Panelists Had To Say
Thomas Ableman Head of Innovation at transport for London did his best to assure everyone that TfL was doing their best to make their target of 80% public, shared and active transport by 2041. Although it's quite obvious that they've not been encouraging the public to embrace innovative technology…
Later on Edmund King OBE, President of AA pointed out that something needs to be done about the TfL messaging.
Eleanor Chappell, Head of Micromobility at the Dft spoke about what to expect from the changing law and regulations. It was suggested there would be different categories for different speeds. The main focus being to improve safety and tackle enforcement, while not punishing people who are riding responsibility.
Eleanor expressed the necessity for building up sense of accountability from riders. She suggested this through testing and licensing. Although, not everyone agreed with implementing more barriers to clean transport.
New Mobility – The innovators
Georgia Yexley, GM Tier Mobility is playing an active role in shaping the legislation and regulation for private and shared eScooter.
Tier and other providers are already able to demonstrate the possibility of integration with huge amounts of data. They hope to see collaboration across boroughs as it's clear that micrombility users are not concerned about borough boundaries.
Georgia said quite aptly "..this legislation, again, is not just about the scope of the shared scooters, or even the private scooters, but actually allows us to go further than that, and continue innovating for new modes that actually capture more trips and allow more people to move in those innovative ways, and low carbon ways".
And that's what it really all comes down to. Georgia wants to see supply chain responsibility from end to end. The public also need to know the benefits forward, enabling sustainable transport.
Duncan Robertson, general manager for Dott, a ride share company 100% believes that private and shared eScooters can co-exist. For the technology to be adopted widely he pointed out that it needs to be available, convenient, dense in network and reliable. A massive question at Dott is how to get people out of the car and reduce the need for a second car.
Duncan also said this must be done without forgetting the user and simplifying and lowering barriers to access.
Not forgetting the user simplify and lower barriers to access.
The time is pressing
Adam Norris owner of Pure Electric was super clear about how urgently we need to move forward.
The biggest polluter in the planet is transport, and when it comes to climate change, we're running out of time.  He stressed that we don't want reach the tipping point and that we can't afford to wait another 10 years. France and Spain are already miles ahead. The UK needs to create clear sets of rules to get people following them.  Much like PET, he is a certain that no legislation has pushed eScooters out of the hands of regular, law abiding citizens.
What was really cool about this event, is that the focus was on the UK.   Other forums we've attended have been global, which is necessary and awesome as well. However, in this case people could really sit down and question we're the UK is heading as a country.
What are your thoughts on eScooter regulation? Drop us an email at hello@personalelectrictransport.co.uk to share your views.
Read more about the electric revolution:
PET At FullyCharged Live April 2022
PET on GB News talking about legislation in 2022