Posted on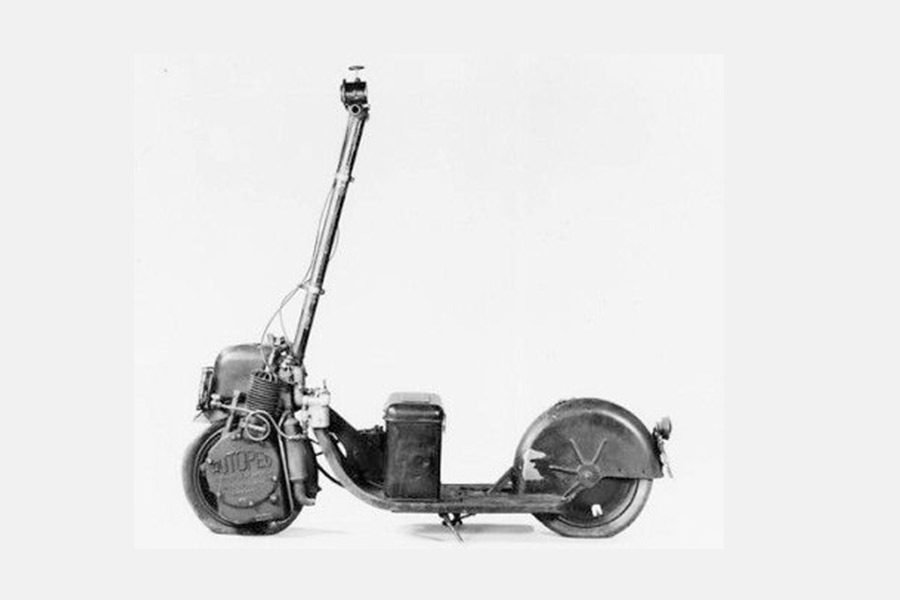 The Autoped, it is a gasoline powered scooter imported from America.. The box is indeed a battery, but for a later version with an electric coil and better lights. According to Oldbike, it was the world's first scooter.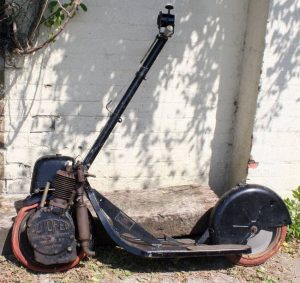 © Oldbike
This fascinating machine represents the world's first model of scooter. It was the only motorcycle to be built in New York City. Though adopted by the U.S. Post Office and other services – as well as fashion-conscious women in Europe and America – it was also used by New York gang members for easy getaways – they could motor down narrow alleys to escape police in cars behind them.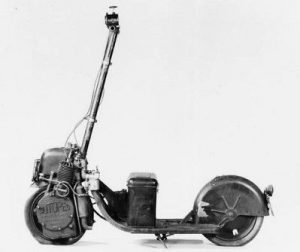 Smithsonian/Public Domain
The Smithsonian has one, and doesn't mention the gangs of New York.
The engine is geared to the wheel by means of a disk clutch. The flywheel, on the right side of the front wheel, contains a 6-volt lighting generator that originally furnished current for lighting and ignition, but the system later was altered by the addition of an ignition coil and four dry-cell batteries. The ignition switch is mounted on the right side of the frame, and the gasoline tank is above the front fender.
All control of the vehicle is through the steering column. Turning the column steers the machine in the conventional manner; pushing it forward engages the clutch; and pulling it back operates the internal, expanding brake on the front wheel. Turning the left grip operates the throttle, and turning the right grip operates the compression release through a wire controlling the opening and closing of the intake valve. A hand Klaxon is mounted on the left grip. It was a folder, too.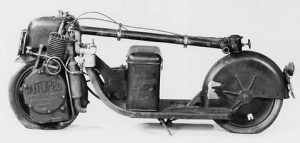 Smithsonian/Public Domain