Posted on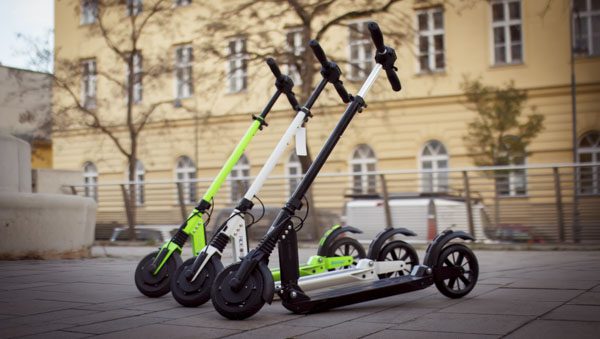 If you currently look the most popular electric adult scooters, there are two models that dominate the European market: The E-Twow S2 Booster and Egret One-GT .
Both offer an impressive range of functions and both bring you in style from A to B. But what e-Scooter offers you more for your money?
Brand
Walberg Urban Electrics' EGRET provides high-quality, contemporary and effective answers to the individual needs of urban mobility. Walberg Urban Electrics is based in Hamburg, Germany.
The E-TWOW – "Electric Two Wheels" brand is part of a large international concept, with headquarters both in China and Europe, focused on offering a new era of urban mobility, through their ingenious electric vehicles. A new era in Urban mobility.
Portability
For big urban areas, it is important to have a scooter that can be easily folded up and carried when you get on the bus, the tube or train.
In small, medium size cities could become a real alternative to public transport.
Although the E-Twow Booster and the Egret One GT can indeed be both folded very easily (and similar size),  the E-Twow has a clear advantage when it comes to the weight: At 10.8 kg, the Booster Plus the lightest self-propelled electric scooters on the market.
The One GT on the other hand weighs 13.5 kg. And while you do not notice the weight when driving, one perceives it quite clear when it is time to lift the scooter.
The Booster also have a usefull belt to carry your Scooter on the shoulder, or when belt is removed also a very usefull handhold to carry your scooter in one hand! Carry Belt E-Twow
Both brands have wheeled carrier bags in accesories for long distance transport.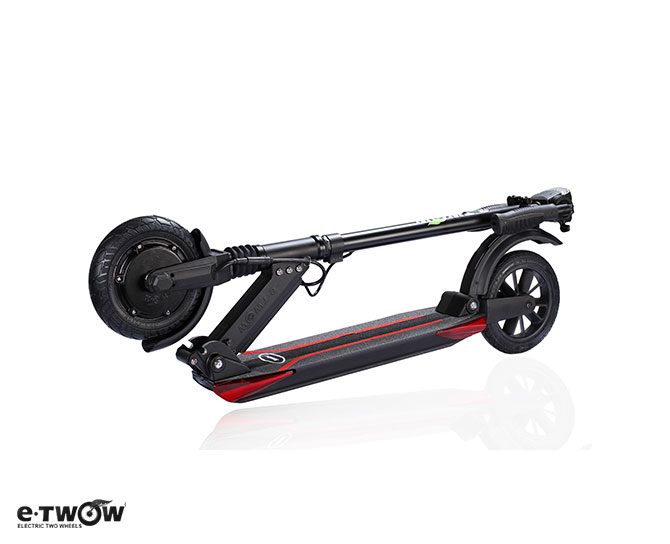 Range
For the usual daily use both take you to destination (and back) without in between recharge.
However, the booster provides a significant advantage in terms of coverage compared to the One GT:
The booster will take you far up to 30 km before you have to recharge it. Compare this with the One GT, which has the range of 25 km, do not forget that this is the range under testing (no headwind, no gradients, minimum stopping and a driver weight of 70 kg).
In the real world, we have 20-25 km from the booster (still more than enough)  and acceptable 20 km from the One GT.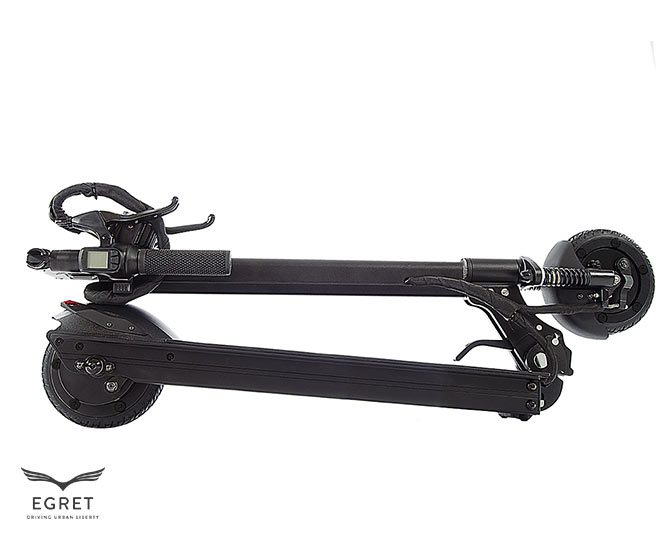 Battery & Power
The One GT is powered by a 36V 8Ah Li-Ion battery and a 250 watt motor.
The booster derives its strength from its 33V 6.5Ah Li-Po battery, coupled with a powerful 500 watt motor.
New Batteries for 2018:
33V 6.5Ah Booster Plus: It is the standalone battery inherited from the powerful Booster S2, perfect for riders from 60kg up to 80kg. Handle hills great and offers a long and trusted cycle life. Max speed 30kpm, total range *25km
36V 7.5Ah Booster S: The extra capacity gives you 5km more range, *30km in total. Max speed 33kph and the more voltage mean more torque. Perfect for riders over 80kg or hilly commuting journeys.
36V 10.5Ah Booster V: 5th-anniversary celebration, *38km range up to 38kph. maximum torque option for demanding routes.
*Real range in our test, 70kg rider.
While both scooters offer similar performance, the booster has a great advantage when it comes to the charging time. The Boosters 3.5 Amp "fast charger" allows you to fully charge the battery in just 2 hours (the fastest time among all electric adult scooters).
The One GT, on the other hand, takes 2 hours to reach 70% but it needs 6 hours until the battery is fully charged.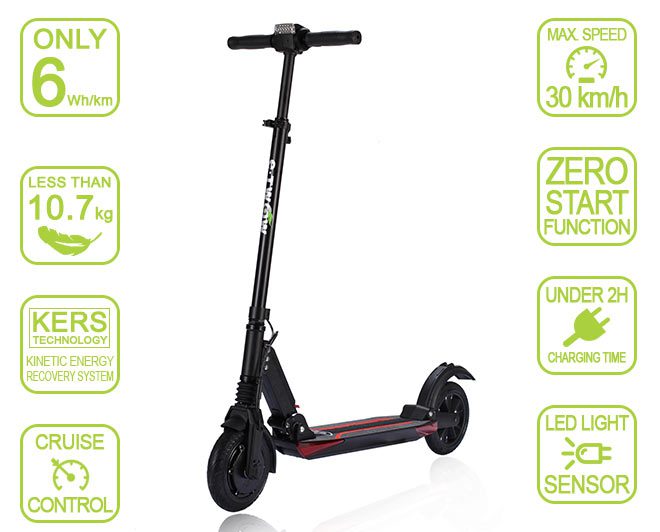 Brakes
The booster is equipped with two brakes, one recuperation front (KERS, the battery recharges every time you brake) and a manual friction brake rear (like a regular kick scooter, for additional braking force).
The One GT has double drum brake front and back reduces the stopping distance dramatically.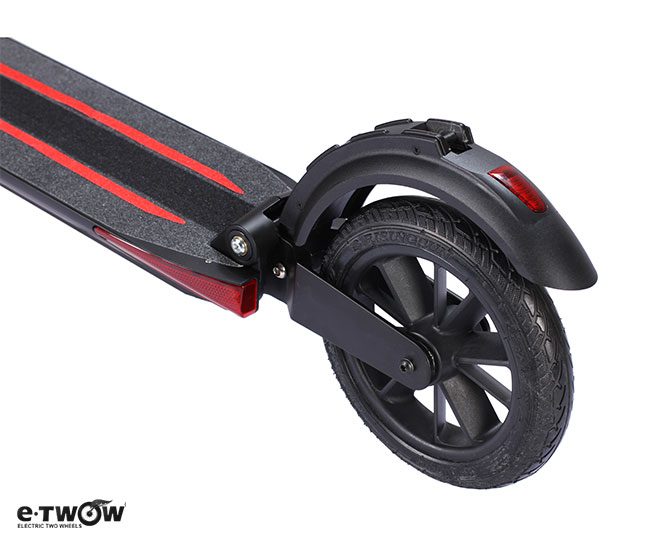 Wheels and suspension
Both scooters have puncture-resistant, solid rubber wheels. However, we are dealing with a case where size really plays a role: With larger 200 mm wheels the Booster offers a much smoother ride than the One GT.
The significantly smaller 160 mm wheels of One GT provide a much bumpy driving experience than the Booster (especially on asphalt and roads with cracks and holes).
Both, however, are equipped with dual suspension, with shock absorbers on the front and rear wheels, which contribute to a softer ride.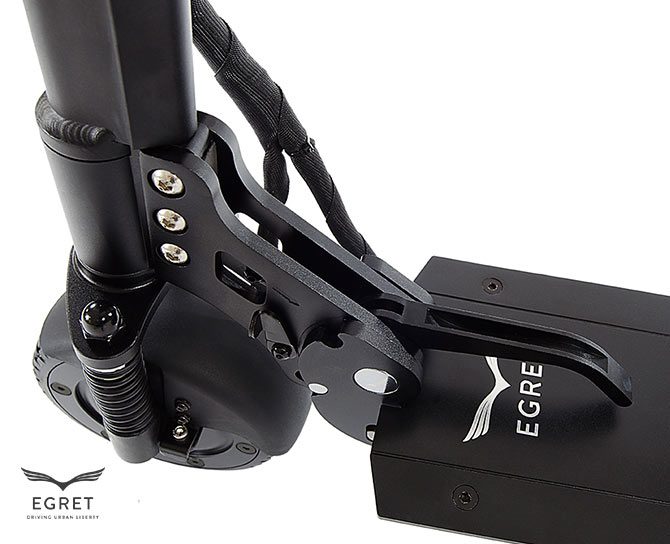 Design
We are big fans of the design of the One GT with a sleek, modern look and it's wider handlebar, the One GT looks awesome it also feels more robust when riding it.
The design of the Booster PLUS is also top-notch. It's thin footboard and the rear friction brake makes it appear as a conventional scooter for those looking for discretion.
Both are solidly constructed from high quality aluminum. Where we have noticed that the handles on Booster become slightly wobbly while driving than in One GT, the Egret feels solid.
The booster is available in four colors (white, black, green or gray), the One GT in black only.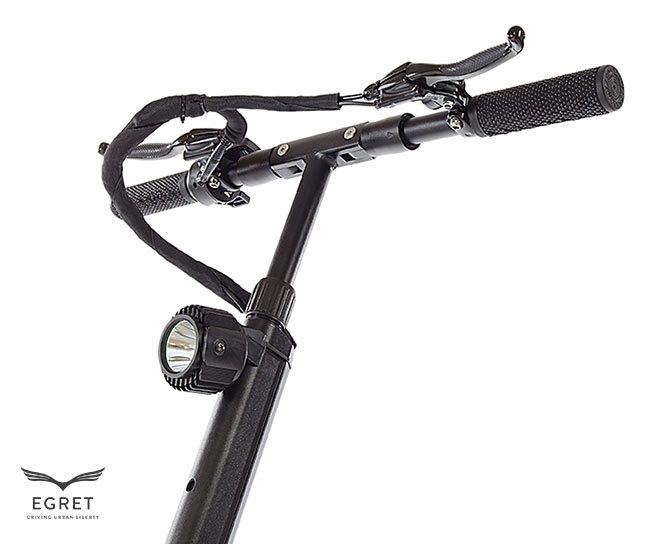 Extras
A feature that we love the Booster, is the integrated front and rear light
The spotlight is a bright LED lamp that illuminates your path you. And the rear lights are wired so that they light up every time you brake. He also has a Horn-button, which is integrated into the display (Note: the sound of the horn is a bit annoying and we do not use it too often).
The One GT comes with rear and really bright front light plus it has a handy little kickstand.
Both have lots of extra accessories to choose from.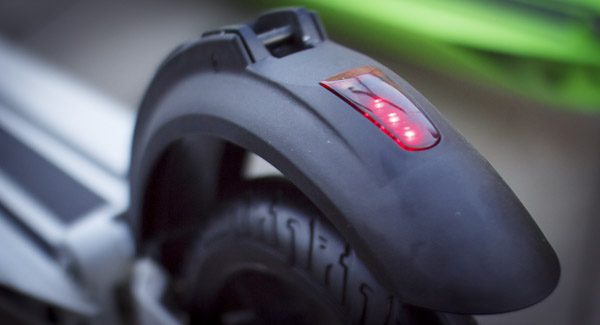 Warranty
Egret offers a full 2-year warranty in all range.
2 years E-Twow warranty.
More info:
LIMITED TIME ONLY: £50 discount (plus FREE UK delivery) when buying an electric adult scooter in our store ! Simply enter the coupon code: S1C007er  at checkout.