Posted on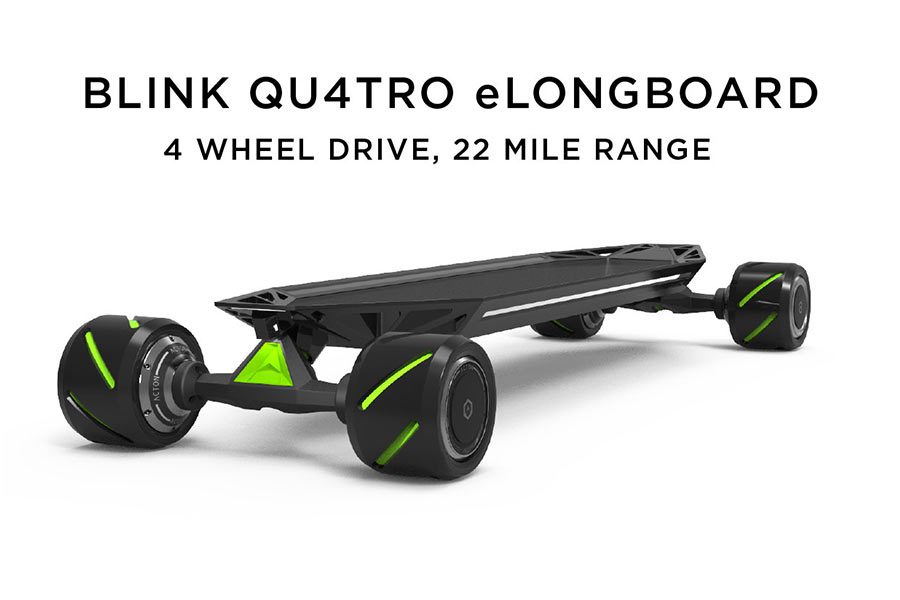 Featuring four-wheel drive and space-age materials, the only electronic longboard of its kind on the market.
ACTON, the leading designer and manufacturer of advanced, smart, light-weight, and innovative electric skateboards, electric skates and electric scooters, today announces its newest innovation, BLINK QU4TRO. As one of the fastest, most powerful eBoards on the market, it's the only board that includes four-wheel drive and electric hub motors for ultimate climbing power. QU4TRO is also made of light-weight materials for easy transport, and features unprecedented engineering and design, allowing for 22 miles of cruising per charge.
In addition to launching the BLINK QU4TRO, ACTON has also added the BLINK S and BLINK S2 to its line. All three of the new eBoards utilize hub motors, which are powerful, torquey, smooth and require less maintenance. These advanced motors also allow for advanced regenerative braking, making them superior to standard belt motors. Additional specs include powerful Samsung/Panasonic battery cells, smart features via the ACTON app and integrated lights, which double as a design and safety feature. Controlled by a remote, the hands-free, lightweight boards give riders the ability to set the speed of the board.
"Our goal is to transform the way people commute and cruise around town, so we wanted to create boards that are integrated machines, far superior to what eBoards once were," said ACTON's Co-Founder and CEO, Janelle Wang. "These aren't just a collection of off-the-shelf parts assembled with a few electronics; we carefully designed these next generation BLINK boards with aluminum and carbon fiber materials so they are rugged but still light-weight and easy to carry. They're ideal for any commuter from students to the business professional."
Each BLINK board has different features to meet the unique needs of any consumer:
 BLINK QU4TRO – Four-wheel drive, most powerful, amazing range and conqueror of all hills.
Specs: deck 865mm/34in, 4 hub motors, 22 miles per charge.
BLINK S2 – Two-wheel drive, commute and cruise, great range and effortless uphill power. Designed for commuters and students.
Specs: deck 800mm/31.5in, 2 hub motors, 10 miles per charge.
BLINK S – One-wheel drive, commute and cruise, most portable vehicle.
Specks: deck 704mm/27.7in, 1 hub motor, 7 miles per charge.
Please subscribe to get updates about stock and availability.