Posted on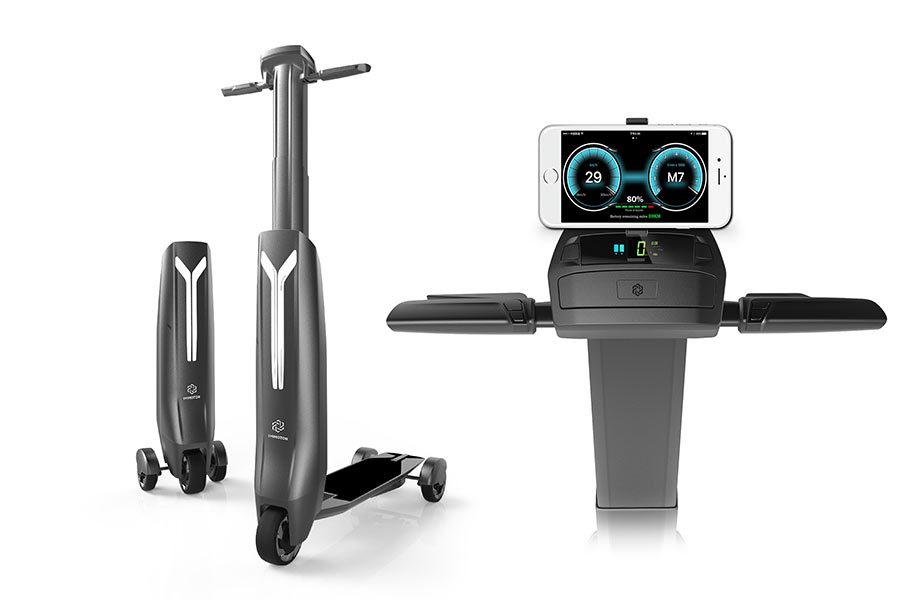 Immotor GO is the first personal electric scooter that can go with you anywhere. It can be folded and put away while the battery can be removed and used, allowing for easy transportation, even on airplanes. It's accessible yet smart, packing in all the practical features required to make it suitable for most ages. Immotor GO's built-in safety protocols and self-diagnostics intelligence link directly to customer service, ensuring that you're always connected and protected no matter where you are. It includes the following features:
Immotor Operating System – The Immotor GO has its own operating system that supports over-the-air firmware upgrades, developer involvement, customization and user experience improvements
Three Scooter Modes – The Immotor GO was designed with well-balanced three-wheel stability and as a result can provide three different modes of operation: Rider mode – for basic riding, fast or slow; Power Assist mode – for hauling heavy objects; and Folded mode for light and easy carrying or transport anywhere
Connectivity – The Immotor GO is always connected for ease of tracking, controlling, monitoring or managing; it provides valuable back-end data, real time information and multi-media functionality
Intelligent Controls – The Immotor GO can be controlled by the smartphone, whether to power on, adjust headlight color or brightness, or the volume and type of horn; in addition, Immotor GO has integrated control buttons on the handle bar for taking selfies or instant pictures of surroundings, broadcasting video, or facetiming while riding.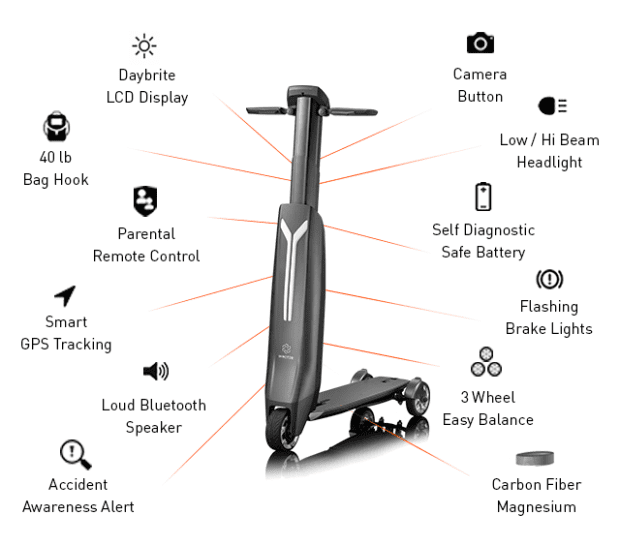 At the core of Immotor GO is its Super Battery, an incredibly innovative and reliable battery system offering unparalleled intelligence and functionality. It boasts the following features:
Dynamic Power Management – When using more than one Super Battery, the integrated battery management system will detect the exact power required by the device and draw accordingly to regulate and control the power and optimize efficiency, time and use
Safety Intelligence – The Super Battery is designed to operate safely under all conditions; when inactive or removed altogether, the battery will remain "inert" and completely safe; and when installed and activated, dozens of operating system safety protocols keep it dependable and safe, including accident awareness and safety intelligence with auto-shutdown
Power on demand – The Super Battery with the Immotor operating system can be programmed to work with multiple batteries in series or parallel to maximize usage and application, allowing you to add more batteries to extend time of use or to provide additional power for more demanding tasks
Multi-functional – The Super Battery was developed as a standalone module allowing for safe travel, easy re-charging, and multi-purpose use as a mobile power station; once removed, the modules have attachments to convert them instantly into an AC plug to power many traditional devices (hair dryer, blender or fan), jump start a car or truck, become a high-powered flashlight, and/or provide general light for indoor or outdoor applications
Daniel Huang, CEO of Immotor, comments: "We recognize the demand for safe and innovative battery-powered transport systems. For some time now, most of the new electric transports are being built using heavy, old batteries – and primarily using existing product designs. With Immotor GO we wanted to introduce something new, especially considering that 38% of all trips are in a personal vehicle, with a single occupant. Designed from the ground up and with zero emissions, it makes travel efficient, cheap, environmentally friendly, fun and above all – smart."
More info: http://immotor.com/