Product Description
The little brother of the EGRET-TEN comes with full suspension: The front wheel is an air wheel with eight inches in diameter. The rear wheel contains the engine and is therefore made of solid rubber, but is perfectly damped by a large spring.
Flexible, easy to handle, smart and comfortable: The EGRET EIGHT V2 is the second stage of development. This all-rounder wins you over with a total weight of 14 kg / 31 lb, a top speed of 28 km/h / 17.4 mph, compact 8" wheels and full suspension (air tire in the front and rear suspension). You will love the performance. No matter the road surface, the EGRET EIGHT V2 will make you feel like driving on clouds.
The design is lean and balanced, the bevelled footboard meets a massive suspension. Two mechanical brakes (front and rear wheel), front and rear light make sure, you are driving safely. Like all EGRET models, the EGRET EIGHT V2 is foldable. Guaranteed all-purpose driving pleasure!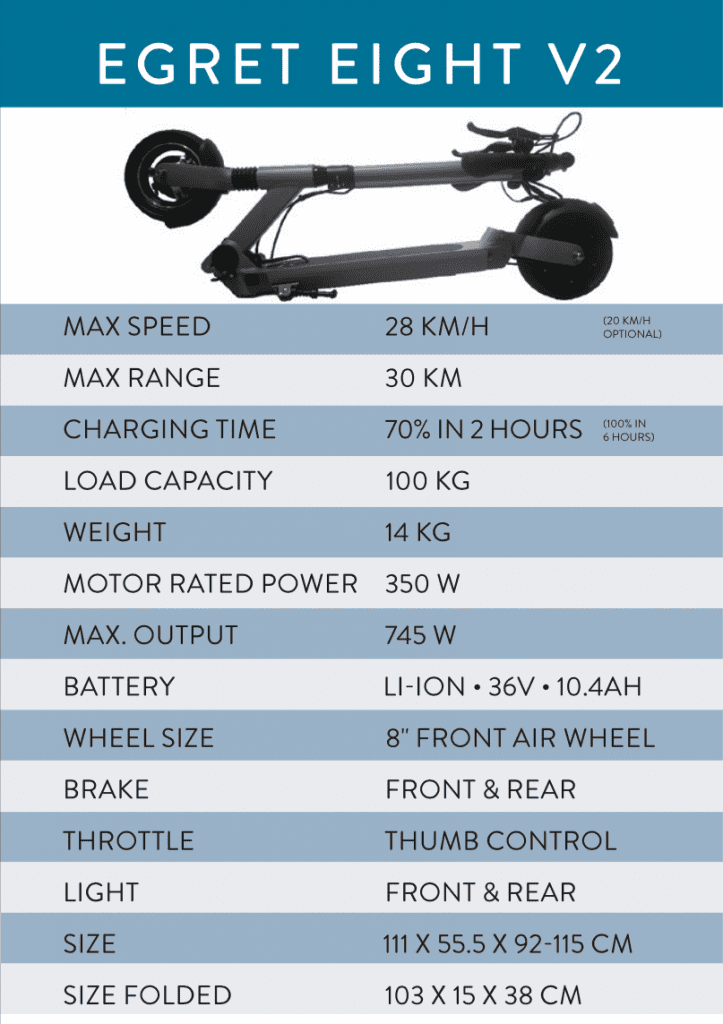 What´s inside the box:
EGRET EIGHT v2 electric scooter
Front Light
Battery
Battery charger
Operating manual
The EGRET EIGHT is not yet street legal (approved for use on public roads)!
The EGRET EIGHT may currently be used anywhere where road traffic rules and regulations do not apply. This may include: Private property, harbor areas, airport and exhibition grounds as well as parks and woodland areas, depending on the signs posted. Europe-wide on-road approval is expected in 2017.