Product Description

READY TO BE TRANSPORTED?
Robstep X1S is an upgraded version from predecessor X1 model, foldable with removable battery offering a range of 35km. Small foldable sized bike perfect for storing in the boot of the car or any other place taking up very little space. Suitable for people up to 2 meters tall and weighing up to 120kg weight.
The simple design of Robstep recalls the lines of a real racing bike and it feels like it! It is the fusion of an electric bike and scooter.
Fully charge in just 4 hours, enjoy the city at 35 km/h. Effortless comfort and style, all without emitting a single gram of CO2!
The LCD display has information about the speed, temperature, and battery level. Powerful speakers connected Bluetooth allow you to play your music. A USB port is also present in order to recharge all your devices.
New Stock without remote control key. !!!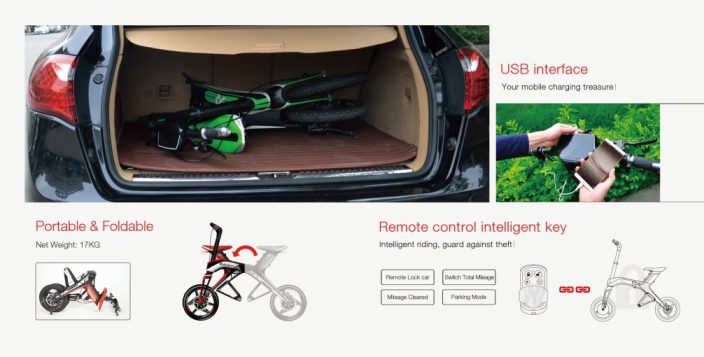 Characteristics:
Net Weight 17kg

Accelerator works like a motorbike, with a 35km/h max speed.

350W engine located on the back wheel.

Can take on slopes of up to 15º in gradient (eg: parking ramps).

12 inches front and rear tires.

A total range of 35km for the Panasonic ION-LITION, 48v with 7000mAh battery.

The battery can recharge externally from a power source.

Easy to replace Exchangeable batteries.

Front and rear disc brakes.

Quick and Easy to fold for storage

Extremely tough aluminum chassis that holds up to 120kg weight.

Adaptable unique size suitable for people between 1,5 to 2m tall.

Front led light.

Rear led light with 4 different settings (steady, blinking, combined red and white lighting) - micro-usb rechargeable.

Fitted Bluetooth speakers where you can connect your favorite music using your smartphone.

USB charging port